Unique Metal Art Wall Panel HC-618
Special Toreutics Tablou
Handicraft on Copper
Size: 30*36*2 cm
Material: Metal / Wood
Color: Brown
A beautiful and original handmade product of Isfahan is Special metal embossing Tablou of Isfahan with bird and flower design. The attractive design of this copper toreutics frame lets you install it on the wall of your home or workplace.
Persian Hand Engraved Wall Art HC-618
The bird and flower design of this handicraft is one of the popular traditional designs. Persian handicrafts have always been a great choice for gifting, even to a foreigner who knows nothing about Persian traditions. So next time you are about to gift one of your employees, make sure you give CyrusCrafts' Handwork collection a good browse.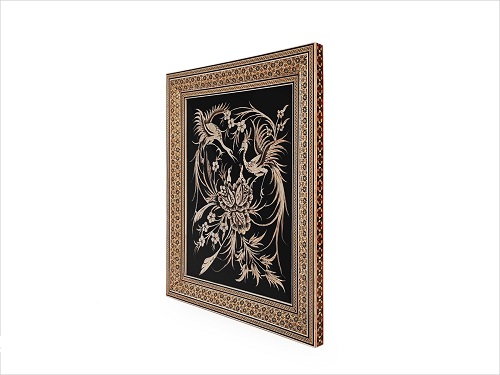 Why CyrusCrafts™?
CyrusCrafts™ by an excellent infrastructure background, professional and specialized activity in the field of sales and export of high-quality vintage and modern Iranian goods to different parts of the world, is now proud to offer you the most peculiar and original decorative and tasty items with the latest transfer processes, Support Customers and after-sales service, responsibly.
We present The Originality, quality, beauty, uniqueness, health, and a good sense of a safe purchase and delivery.