Crystal Wall Light code N2661-1
Material Body: aluminium
Shape: Circular
Weight: 2.15 kilogram
Height: 9.84 in
Size: 7.78* 6.22 Inches
Unique modern wall light chandelier ID-312
Modern crystal wall light code N2661-1, with an aluminum body, and SMD lamps is one of the best items for home decoration. This 1 flame wall light chandelier, is a unique product that is designed by art.
Body Material of crystal wall light ID-312
This beautiful wall light is made of aluminum with antique plating, which is very durable and beautiful.
Diecast chandeliers are very similar to bronze chandeliers, except that they are made of aluminum, which buying a decorative with aluminum material is more economical than bronze chandeliers and also weighs less.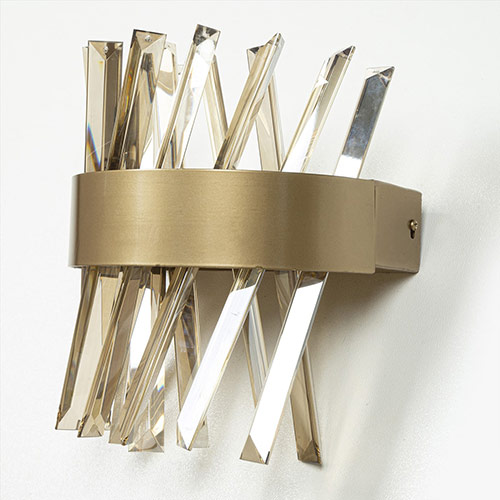 Maintenance of wall light ID-312
Be careful not to use chemical fluid to clean the plated parts, otherwise, the chandelier will change color. Dusting chandelier branches with a water-soaked cloth is the best way.
Why cyruscrafts™?
With a strong infrastructure background, professional and specialized experience in the field of sales and exports of vintage and modern Iranian goods to various countries around the world such as Canada, CyrusCrafts team is now able to provide you with the most unique and original decorative and tasty items with the latest transfer processes, Customer support, after-sales services, responsibly. We offer Originality, Quality, Beauty, Uniqueness, Health, and a secure sense of delivery.
Size

7.78* 6.22* 9.84 Inches

Weight

2.15 kilogram

Color

Golden

Application

House, Bedrooms, Hall