Antique S-shape Brass Table Lamp ID-581
Material: Brass
Color: Antique
Weight: 1.2 kilogram
Height: 20.07 Inches
Size: 6.69* 10.62* 20.07 Inches
Produced in the style of stained glass
Iranian handicraft
Completely Washable
Antique Brass Table Lamp ID-581
Generally, in any home where design and decoration are important subjects, you can see a table lamp as an attractive decorative accessory. If you want to illuminate only a limited space of the table and the room, it is better to use a desk lamp; of course, with a pale color lampshade, you can get the maximum light. You can buy this desk light online quickly and at the best price.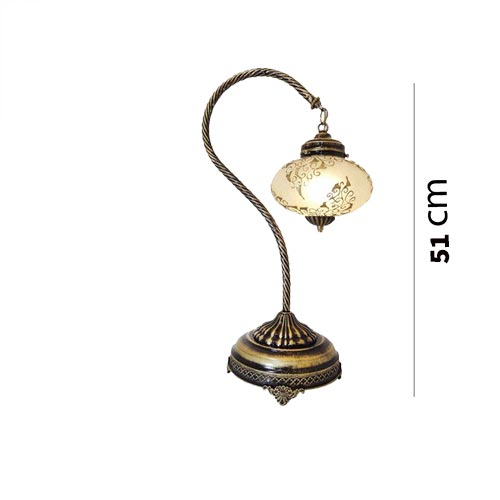 Construction
Stained glass is the art of painting and painting on glass. Beautiful art that started in the past by putting together pieces of colored glass to decorate public places such as temples and churches and today is used in a very professional and attractive way in decoration.
Why CyrusCrafts™?
With a strong infrastructure background, and professional and specialized experience in the field of sales and exports of vintage and modern Iranian goods to various countries around the world, such as Canada, the CyrusCrafts team is now able to provide you with the most unique and original decorative and tasty items with the latest transfer processes, Customer support, after-sales services, responsibly. We offer Originality, Quality, Beauty, Uniqueness, Health, and a secure sense of delivery.
You might also like
Interior Design
CyrusCrafts™
ID-23
Material: Brass Color: Antique Height: 44 cm Diameter: 13.5 cm Easy to Clean
Interior Design
CyrusCrafts™
ID-548
Color: White with Blue flowers Weight: 1.5 kilogram Size: 6.29* 6.29* 19.29 Inches Produced in the style of stained glass Iranian handmade Completely Washable