Stone Resin and Wood Desk lamp ID-605
Weight: 3 kilogram
Size: 8.26* 8.26* 11.41 Inches
Color: Grey
Body Material: Stone, resin and wood
Wire Length: 47.24 in
Wooden stone resin grey table lamp ID-609
This table lamp is made using thin sheets of original agate and its combination with epoxy resin.
The passage of light through the opal stone plates creates a remarkable beauty of this desk lamp, and by creating a soft and pleasant light in the space of the room and home, it offers you a unique product. This table lamp is made of pine and completely handmade. You can buy this decorative online at a good price.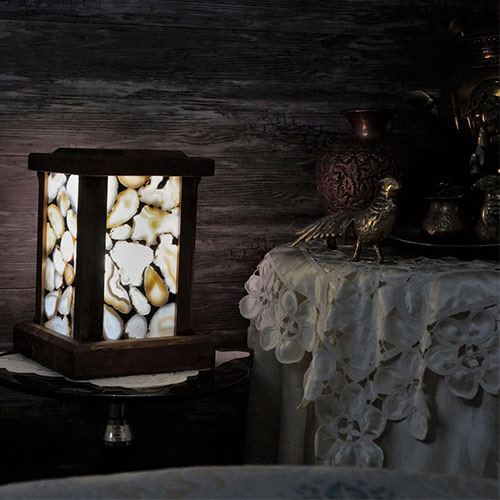 Why cyruscrafts™?
With a strong infrastructure background, professional and specialized experience in the field of sales and exports of vintage and modern Iranian goods to various countries around the world such as Canada, CyrusCrafts team is now able to provide you with the most unique and original decorative and tasty items with the latest transfer processes, Customer support, after-sales services, responsibly. We offer Originality, Quality, Beauty, Uniqueness, Health, and a secure sense of delivery.
<!-- [if gte mso 9]> <w:LsdException Locked="false" Priority="47" Name="Grid Table 2 Ac
You might also like
Interior Design
CyrusCrafts™
ID-324
Size: 13.77* 13.77* 22.04 Inches Weight: 2 kilogram Height: 35.43 in
Interior Design
Cheshmeh Noor
ID-436
Weight: 0.75 kilogram Size: 9.05* 9.05* 19.68 inches Wire length: 78.74 in Body Material: Metal Color: White
Interior Design
Raika
ID-548
Weight: 1.5 kilogram Size: 6.29* 6.29* 19.29 Inches Produced in the style of stained glass Iranian handmade