Sahand Machine-woven 4'X7' Blue Carpet Rc-126
Machine woven carpet
Anti-allergy/ Fixed color/ Anti-electricity fibers, static, anti-dirt and soft
Length: 7' 4.56" (225 cm) / Width:4' 11.04" (150 cm)
Longitudinal density: 1400 shaneh
Transverse density: 700 shaneh
Note: The number of weft yarns per meter of carpet length is called the longitudinal density. The number of knots per square meter of the carpet's width is called the transverse density. The higher the transverse and longitudinal density of the carpet, the more durable the carpet is.
This product machine-woven 4'X7' carpet with its special pattern is woven in Iran. Beautiful and colorful traditional designs that cover the whole field of this machine-made carpet, have made it an acceptable choice for those interested in Iranian culture and art.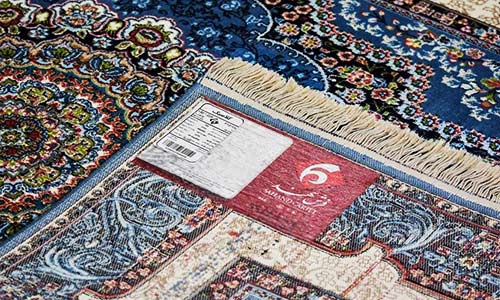 Features of Sahand machine-woven 4'X7' blue carpet Rc-126
The designer of this blue carpet has used designs that we see mostly in nomadic hand-woven carpets and has given a beautiful effect to this machine-made carpet. Sahand machine-made carpet with its traditional design gives your modern house the originality of Iranian culture and art and enhances its beauty.
This machine-made 4'X7' carpet with 700 shaneh per meter has an acceptable weave, which seems to be a good choice. Its weaving is done using cotton thread and polyester. The variety of colors used in this carpet is six real colors. This beautiful carpet, as an original Iranian product, is a work that will quickly find its place in the decoration of your home and will become an inseparable and lasting part of your home space.
CyrusCrafts™ by an excellent infrastructure background,  professional and specialized activity in the field of sales and export of high-quality vintage and modern Iranian goods to different parts of the world, is now proud to offer you the most peculiar and original decorative and tasty items with the latest transfer processes, Support Customers and after-sales service, responsibly.
We present The Originality, quality, beauty, uniqueness, health, and a good sense of a safe purchase and delivery.
---
The Softest Rug I've Ever Touched!