Semi Hand-woven 4'X7' Navy Blue Baby Rug Rc-130
Baby rug
Original with excellent quality
Soft and durable
Odorless and non-sticky
Length: 7' 4.56" (225 cm) / Width: 4' 11.04" (150 cm)
This product, Semi hand-woven 4'X7' navy blue baby rug Rc-130 is an area rug with a childish design that can be an attractive gift for your children and grandchildren. Choosing a design and color scheme that suits the mood of children is one of the points that parents should pay attention to so that they can create a good feeling for their children in their room. Choosing happy designs with attractive colors can be a good choice for children's rooms.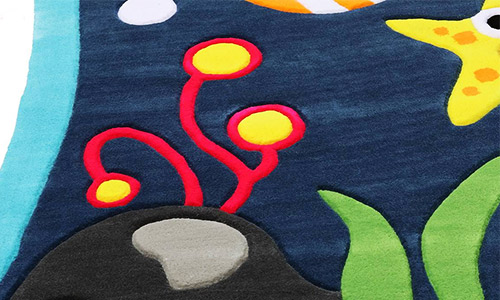 Children's carpets have a high variety of designs, colors, and styles and give a happy and attractive atmosphere to your beloved child.
The height of this children's carpet is 12 mm. In the process of producing these beautiful carpets, handicrafts are used along with machines, which makes the work done faster than traditional carpet knots.
Advantages of Semi hand-woven 4'X7' navy blue baby rug Rc-130
Machine-made 4'X7' carpets Acrylic is softer 
softer and lighter than polyester
When touching, the hand easily slips off the carpet and does not feel sticky
The carpet does not smell of plastic or petroleum products at all
Machine carpet has high resistance to trampling and excellent reversibility
The blue carpet has happy, vibrant, and clear colors.
CyrusCrafts™ by an excellent infrastructure background,  professional and specialized activity in the field of sales and export of high-quality vintage and modern Iranian goods to different parts of the world, is now proud to offer you the most peculiar and original decorative and tasty items with the latest transfer processes, Support Customers and after-sales service, responsibly.
We present The Originality, quality, beauty, uniqueness, health, and a good sense of a safe purchase and delivery.