Machine woven 9'X13' Outdoor Rug Rc-137
Machine-woven outdoor carpet
Length: 13' 1.44" (400 cm) / Width:9' 10.08" (300 cm)
Longitudinal density: 960 density
Transverse density: 320 shaneh
Note: The number of weft yarns per meter of carpet length is called the longitudinal density. The number of knots per square meter of the carpet's width is called the transverse density. The higher the transverse and longitudinal density of the carpet, the more durable the carpet is.
This Machine woven Outdoor 9'X13' Carpet Rc-137 has a good density and quality. Also, with its large dimensions, it can cover a large space inside or outside of the house. This machine woven outdoor carpet can be used as an outdoor carpet, which is suitable for it due to its short lint.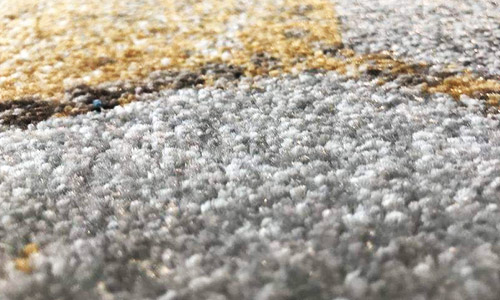 About machine woven outdoor 9'X13' carpet Rc-137
The life of machine-made carpets can reach up to 30 years, depending on the fibres used in them, as well as the basic use and maintenance. Preventing moisture from reaching the machine-made carpet and washing it properly will significantly increase the life of the carpet. This machine-made carpet has a black background and 320 reeds and a density of 960. Its yarn is made of polyester and cotton and can be washed.
CyrusCrafts™ by an excellent infrastructure background,  professional and specialized activity in the field of sales and export of high-quality vintage and modern Iranian goods to different parts of the world, is now proud to offer you the most peculiar and original decorative and tasty items with the latest transfer processes, Support Customers and after-sales service, responsibly.
We present The Originality, quality, beauty, uniqueness, health, and a good sense of a safe purchase and delivery.
Size

13' 1.44" X 9' 10.08"

Material

Polypropylene HeatSet Freezer

Originate

Persia ( Iran )

Color

Black
Grey

Density

960 shaneh