Tabriz Circular Silk Hand-woven Carpet Rc-150
Tabriz hand woven carpet
Circle diameter: 8' 2.76" (251 cm)
Density: 70 raj
Note: The number of weft yarns per meter of carpet length is called the longitudinal density. for example, a carpet with a density of 1000 has a yarn equivalent to 1000 yarns per meter in length. the higher the density and comb of the carpet, the longer the carpet will last.
This circular silk hand-woven carpet is an original handmade carpet with high density and excellent quality and circular shape.
Why Tabriz circular silk hand-woven carpet Rc-150 is a good choice for decoration?
A round carpet makes the floor look bigger. Because it directs the eye to all corners of the wall and this makes the viewer's eye look bigger. For this reason, around carpet can be the perfect option for small spaces. Although the circular carpet brings the focus of the design to the center, the emptiness around the carpet makes the cream carpet design look more beautiful and better.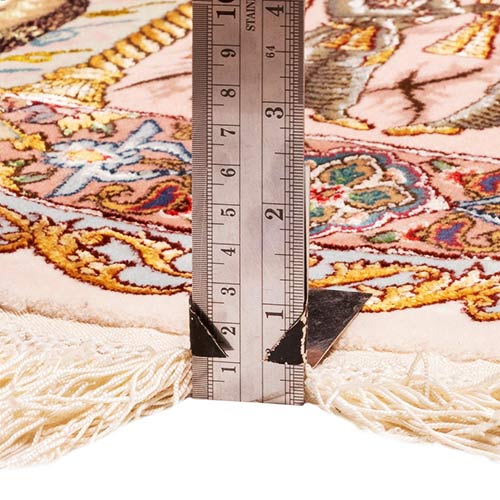 One of the mistakes of carpet layout is choosing a round carpet for rectangular furniture layout. This may be true for classic furniture installations, but around the carpet in the presence of a large sofa and puffs and modern benches can create a different and stylish atmosphere.
CyrusCrafts™ by an excellent infrastructure background,  professional and specialized activity in the field of sales and export of high-quality vintage and modern Iranian goods to different parts of the world, is now proud to offer you the most peculiar and original decorative and tasty items with the latest transfer processes, Support Customers and after-sales service, responsibly.
We present The Originality, quality, beauty, uniqueness, health, and a good sense of a safe purchase and delivery.