Colored 3'X4' Hand-woven Collage Carpet Rc-163
Hand-woven collage carpet
High durability and excellent quality
New model and special style 
Length: 4' 9.84" (147 cm) / Width: 3' 1.32" (95 cm)
This carpet with embroidered designs can have a very beautiful and original effect on home decoration. In preparing this colored 3'X4'  hand-woven collage carpet, pieces of Iranian hand-knotted carpets woven in Tabriz or Kerman were used, which were designed in this way after fixed color editing, and were hand-knotted by Iranian hand-woven carpet weavers by a cotton thread from the carpet knot. Then it is sewn by a special sewing wheel for more strength and beauty of appearance.
Why do we suggest buying a Colored 3'X4' hand-woven collage carpet?
Collage rugs have a great variety and can be used as a modern or classic item in both types of decorations.


This approximately 3'X5' carpet is completely hand-woven, so it can be said that it has a very good quality.


The special and attractive colors used in this collage will attract any viewer.


This carpet can be used in the bedroom, living room, kitchen, etc., or given to friends and loved ones as an exquisite gift.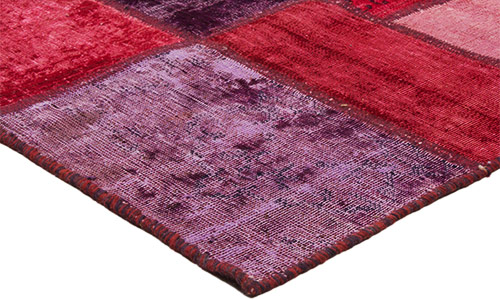 CyrusCrafts™ by an excellent infrastructure background,  professional and specialized activity in the field of sales and export of high-quality vintage and modern Iranian goods to different parts of the world, is now proud to offer you the most peculiar and original decorative and tasty items with the latest transfer processes, Support Customers and after-sales service, responsibly.
We present The Originality, quality, beauty, uniqueness, health, and a good sense of a safe purchase and delivery.