Tabriz 1'X6' Hand-Knotted Runner Kilim Rc-225
Tabriz Hand-woven Runner Kilim Rc-225
High durability and excellent quality 
Natural and traditional dyeing
Original and beautiful
Length: 6' 6.72" (200 cm) / Width: 1' 7.68" (50 cm)
Tabriz 1'X6' Hand-Knotted Runner Kilim Rc-225 in decoration
This Tabriz hand-knotted runner Kilim Rc-225 can be used as a paddy, like a rumble, a tablecloth, to spread the kilim in a hallway or staircase. In general, the use of kilims in Iranian-style home decoration is highly recommended.
Using this Tabriz 1'X6' hand-knotted runner Kilim Rc-225 in the living room
The walls of our homes are often painted in bright colors (white, cream, bone). Using this red rug with bright designs and saturated colors can transform a drab reception space into a cheerful and warm space if your furniture has baked colors (colors with high concentrations of gray, such as burnt brown, crimson, and gray). If the color of the kilim is cooked, it will not destroy the calming feeling of the house in the long run.
Using this Tabriz hand-knotted runner Kilim Rc-225 in the kitchen
Usually, in color psychology, warm colors are suggested for places where presence is not permanent and must have a certain passion and energy. If you have the chance that your kitchen will fit as much as a floor, this Persian rug with bright and warm colors can be a tempting choice.
Using this Tabriz hand-knotted runner Kilim Rc-225 in the bedroom
What is important in the bedroom is a sense of calm and warmth. Cold painting of the walls (white, blue) can bring comfort, but adding this kilim with warm colors can keep the bedroom warm while keeping it calm.
 In principle, the choice of home color scheme is related to personal taste, but to maintain the above point, we suggest using warm colors in the bedroom.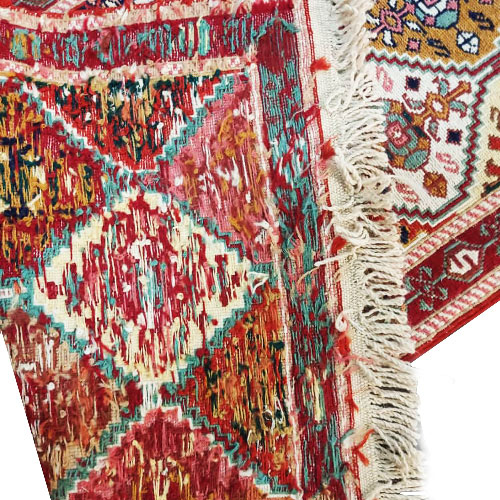 CyrusCrafts, which has a long-established and strong infrastructure background, is now proud to offer the most original and peculiar decorative artifacts and delicious food items in a convenient and helpful manner, as well as support for customers and after-sales service, responsibly. 
Size

6' 6.72" X 1' 7.68"

Material

Wool

Originate

In Tabriz /Persia ( Iran )

Color

Red

Usage

Home Decoration