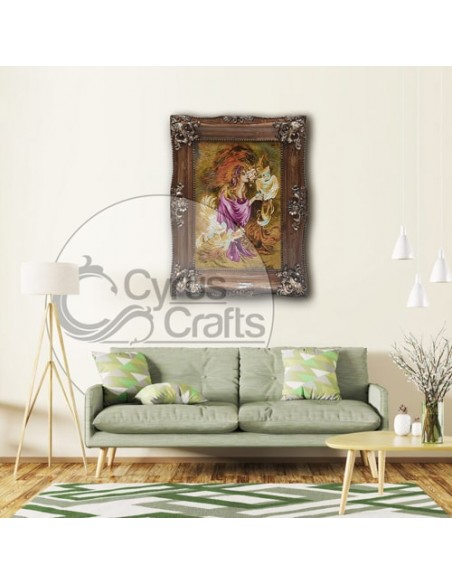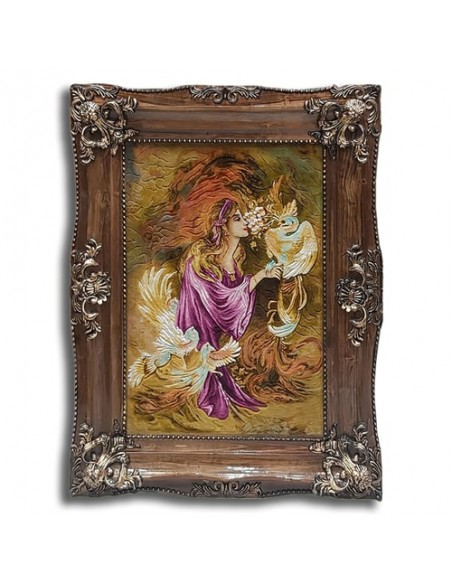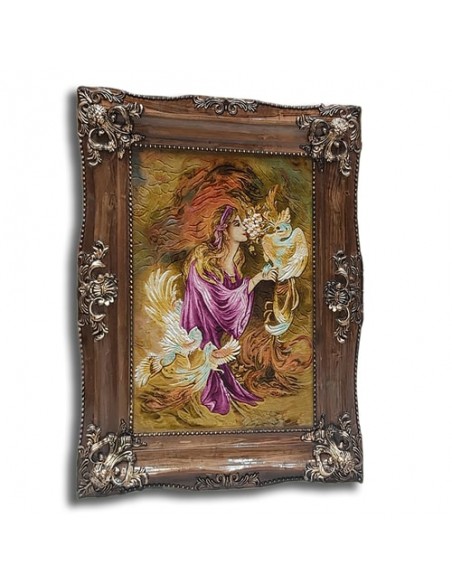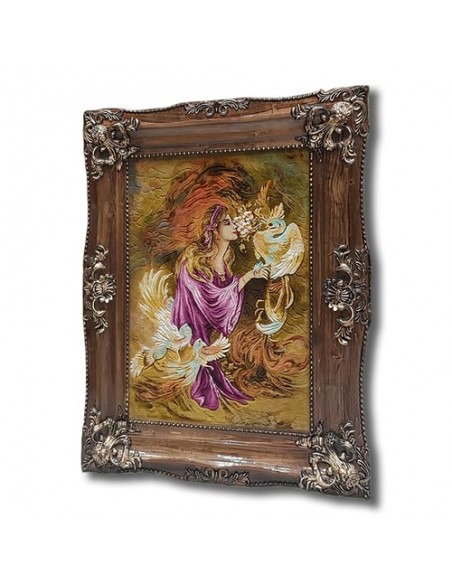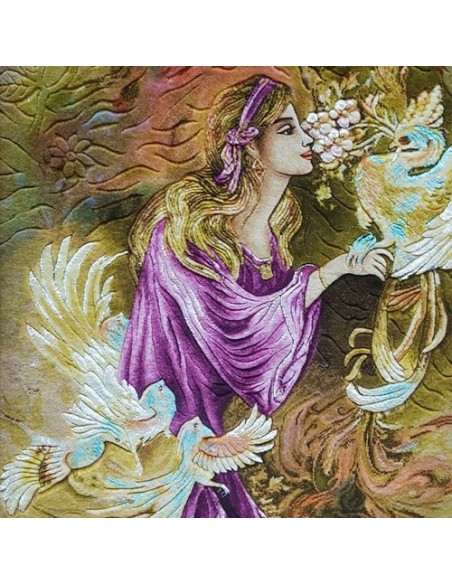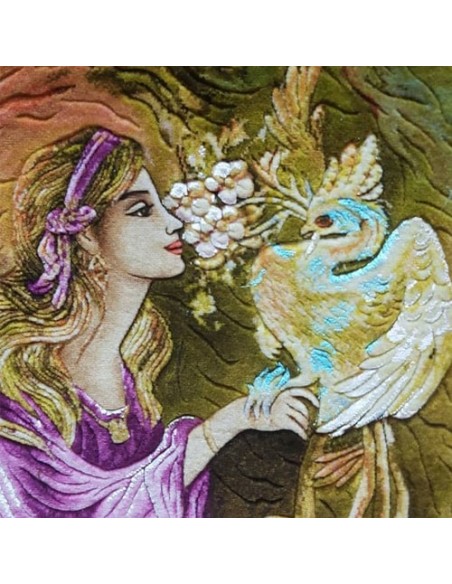 The Warmth of Love AG-836 Machine-Made 3D Silk Wall Rug (Tableau Rug)
Dimensions: 55 x 80 (cm)      1' 8 x 2' 6 (ft)
Border Dimensions: 80 x 110 (cm)      2' 6 x 3' 6 (ft)
Origin: Persian, Tabriz
Foundation/Material: Silk
Border Material: 100% Wood
Weave: 100% Machine-Made
KPSI: 50
The Warmth of Love embossed silk pictorial rug
2022 modern wall rug (tableau rug) "The Warmth of Love" is a Tabriz silk rug, which means the only material used on this rug is 100% high-quality silk. Although this work is machine-made, the lower price is due to.
Machine-made rugs can be made quickly from materials including wool, synthetic fibers, and in this case, silk.
Machine-made silk wall rugs in various colors and designs bring color, charm, dreams, and warmth to your home and are suitable options for classic and modern decorations. The best machine-made silk tableau rugs are woven in Iran factories, Factories that use the most up-to-date and well-equipped machines and materials to control all the weaving steps. Despite all the disadvantages and advantages, these wall rugs dazzle the eyes.
The Warmth of Love embossed wall rug has a great variety of color tones and designs, making your home colorful and fresh. Moreover, The Warmth of Love has a lower price than most of the other silk wall rugs out there, and the delicacy of the texture makes The Warmth of Love rugs look like handmade wall rugs and attract many people. It is also suitable for people with allergies or skin diseases.
The Warmth of Love embossed piece of art is an excellent option for decorating the house, especially the newlyweds' house. You can combine their color with the color of curtains, furniture, wallpaper, etc., and create a beautiful interior design.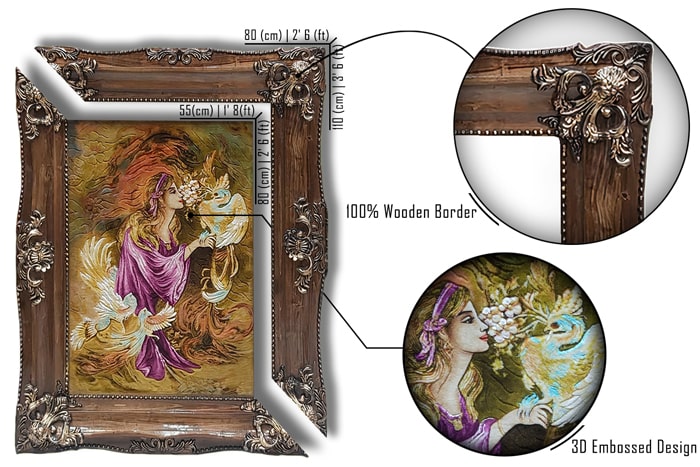 The Warmth of Love emboss feature (3D)
Embossed wall rugs are beautiful. They are available in two main types Handmade and machine-made. Machine-made ones are significantly cheaper due to the machine-weaving process.
Embossing a rug is done using silk yarn, and after finishing the weaving and performing other steps on the rug, the embossed rug is produced and ready to be presented. You can create a stunning look for your home decoration by choosing The Warmth of Love and hanging it on your walls.
Now think you get a colorful, impressive, soft, shiny... 3d silk wall rug with only a little money.
CyrusCrafts™ Shop
We offer customers direct products through the latest transfer methods, customer service, and after-sales support. Our company exports vintage and modern Iranian goods, and our sales department is remarkably professional. Thus, this is a significant achievement.
Cyrus Crafts' quality and attention to detail sets it apart from the rest.  
What Do You Think of This Product?