Nikahd Three Colors Qazvin Baklava Ta-263| 840 gram
Produced in Iran (Qazvin)
High quality baklava
With wooden packaging
In package of 34 pieces
With layers of almonds and pistachios
Nikahd three colors Qazvin baklava Ta-263
Qazvin baklava is one of the most important and prominent souvenirs of this province. Qazvin baklava, which is composed of several layers of almond sugar and pistachio sugar, is very beautiful and very tasty.
Qazvin baklava, which is also known as rhombus baklava, tricolor, or flag, is made from three to five types of nuts and, unlike Tabriz baklava, has less nectar. Each layer of this multi-colored flag is dedicated to one of the products of traditional gardens in Qazvin.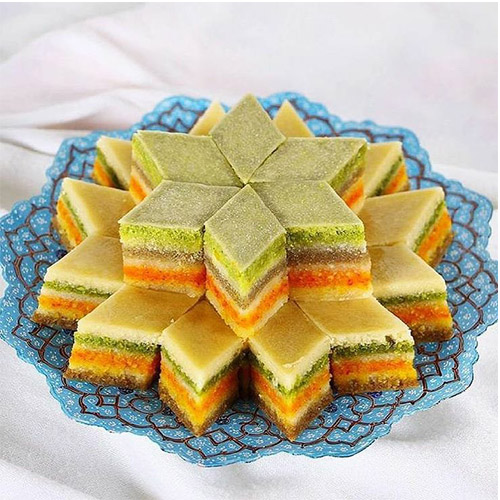 Other layers of this delicious baklava are composed of saffron almonds and almonds with cardamom flavor, which is composed of the sweet taste of fragrant nectar and baklava dough.
Why CyrusCrafts?
CyrusCrafts™ by an excellent infrastructure background,  professional and specialized activity in the field of sales and export of high-quality vintage and modern Iranian goods to different parts of the world, is now proud to offer you the most peculiar and original decorative and tasty items with the latest transfer processes, Support Customers and after-sales service, responsibly.