Ossetra Caviar Ta-437| 50 gram pack
Produced in Iran
Delicious and high-quality caviar
Caviar with light color
In package of 50 gram (1.76 ounce)
About Ossetra Caviar Ta-437
Caviar is a delicious, invigorating, and energetic food that is digested and absorbed very quickly and has many vitamins and minerals. Caviar has a high percentage of protein that contains all the essential amino acids for the body. The minerals in caviar are very useful for repairing tissues and making various hormones and enzymes, especially for patients, and increase the body's immunity.
Ossetra caviar, which is obtained from the sturgeon species, is the rarest and best caviar. This type of caviar has good taste. Astra caviar has a light color; That is why it is known as golden caviar. This precious substance is actually the unbelievable sturgeon eggs.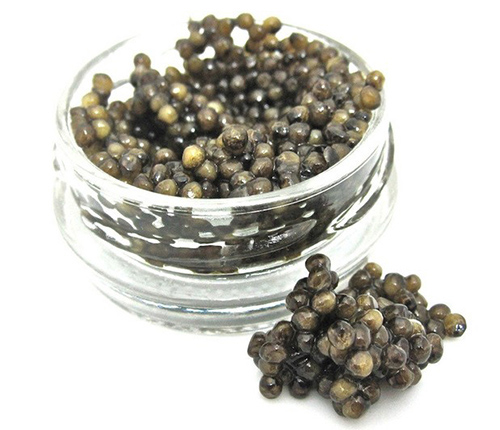 Ossetra caviar is extracted from three famous fish of northern Iran, namely Iranian sturgeon, Russian sturgeon, and sloping caviar.
Why CyrusCrafts?
CyrusCrafts™ by an excellent infrastructure background,  professional and specialized activity in the field of sales and export of high-quality vintage and modern Iranian goods to different parts of the world, is now proud to offer you the most peculiar and original decorative and tasty items with the latest transfer processes, Support Customers and after-sales service, responsibly.
You might also like
Tasty!
Culture
Ta-189
Produced in Iran  Has a pearly white color In package of 50 gram (1.76 ounce)
Tasty!
Culture
Ta-341
Produced in Iran Grain size less than 3 mm Color range from light gray to dark gray In package of 50 gram (1.76 ounce)