Salted Almond Kernels Ta-816| 250 gram pack
Produced in Iran 
Premium quality
Salted and sour pistachio
In the package of 250 grams (0.55 pounds)
About Salted Almond Kernels Ta-816
Almonds have many properties and benefits. It is true that few people are aware of the skin benefits of almonds, but in Asian countries almonds are known as skin and hair strengtheners and are recommended for skin and hair beauty for many years, but this is only part of the properties of salted almond kernels Ta-816. These tonic snack are also very good for health.
The oil content of almonds is 49%, comprising 62% unsaturated oleic acid, 24% unsaturated linoleic acid, and 6% saturated palmitic acid. Almond seeds can produce another almond tree and the tree can be propagated by seeds. That is why almond seeds have a variety of nutrients.
Some properties of Salted Almond Kernels Ta-816
Almonds have amazing health benefits such as weight loss and lowering blood sugar, and can also regulate your body's harmful cholesterol. Almonds are rich in healthy fats, magnesium, fiber, and vitamin E, which can reasonably improve brain and heart disorders, digestive problems such as constipation, and respiratory disorders such as cough, anemia, and impotence. Also, the properties of almonds on oral health are very high. Of course, almonds can lead to side effects such as obesity and digestive problems if consumed in large quantities.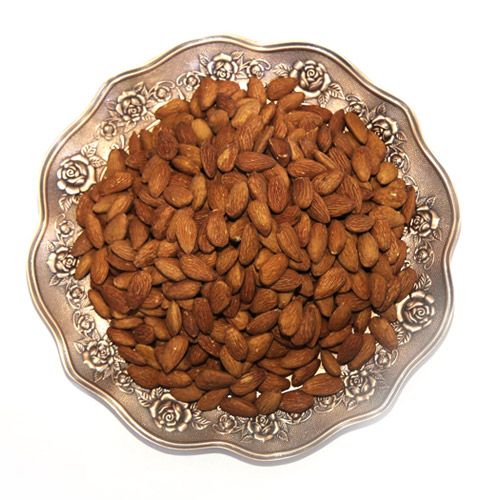 How to maintenance Salted Almond Kernels Ta-816
Almonds do best and most effective when they are stored in a dry, cool place and away from direct sunlight. Almonds contain antioxidants that, if stored properly, are able to retain their antioxidant effect for a very long time. After buying almonds, be sure to put them in the freezer for two days to kill insects that are not visible to the naked eye.
Paper bags are the best option for storing almonds outside the refrigerator. Because it absorbs moisture and prevents light transmission.
To store these nuts in the freezer, you can also put the almonds in a suitable container in a package and put it in the freezer. Using a freezer bag causes moisture and an unpleasant odor. 
Size

24 X 16 cm

Weight

250 gram (8.81 ounce)
You might also like
Tasty!
CyrusCrafts™
Ta-281
Produced in Iran High quality Raw almond In package of 1 kg (2.2 pound)
Tasty!
CyrusCrafts™
Ta-971
Produced in Iran  Whole Almonds Premium quality A source of healthy nutrients In the package of 1 kg (2.2 pound)
Tasty!
Tavazo
Ta-1655
Produced in Iran  Salted almond Premium and High-quality In the package of 1 kg (2.2 pounds)