Ghasemi Sohan Candy Ta-86| 600 gram pack
Produced in Iran
With pistachio kernels
Healthy snack
With Shahnameh design packaging
In the package of 600 gram (21.16 ounce)
Sohan is another popular Iranian sweet. As a result of Sohan's popularity, this sweet is now available in various forms.
About Ghasemi Sohan Candy Ta-86
Sohan Ghasemi is made from fresh and first-class raw materials. Due to its pistachio kernel content, this product is very energy-intense and is an excellent choice as a healthy snack. This Sohan is very tasty and due to its small size, it is very suitable for parties.
Sohan nutritional value
The main source of Ghasemi Sohan candy is wheat germ. Among the things that indicate the quality of the Sohan are its light brown color and flavor, and these things depend on the raw materials it is made with. Most of Sohan's properties are due to the wheat germ, which is why it is rich in protein and a good source of vitamins and minerals, especially B and E vitamins.
Wheat germ contains natural sugars that store energy in the muscles and improve muscle function as well as prevent fatigue and lethargy.
Sohan cooking is influenced by the quality of the animal oil and butter used in it. The best Sohan is one that does not stick to the teeth and is not firm. After tasting a little of the bad sole, a buyer knows that the sole is not good and the quality of its raw materials is low.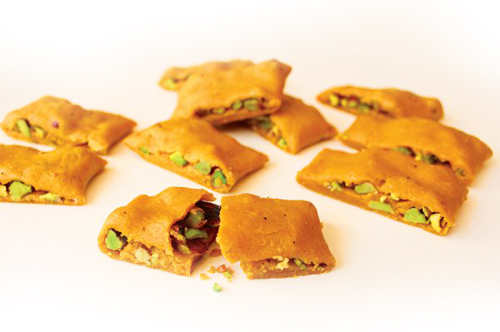 Why CyrusCrafts?
Our extraordinary infrastructure, professional and specialized activities in the field of sales and export of antique and modern Iranian goods to different parts of the world have allowed us to offer you the most unusual and original decorative and tasty items with the newest transfer processes, Professional customer support, and after-sales service.
Weight

500-1000 grams (17.63-35.27 ounces)

Brand

Ghasemi Sohan