Haz Sargol Saffron with Spring Box Ta-94| gift pack
Produced in Iran
Gift pack
With 9.21 grams of saffron
It has a brass pounder
Includes first-class saffron
About 

Haz Sargol Saffron with Spring Box Ta-94

Saffron is an expensive seasoning and coloring known as red gold. This Haz Sargol Saffron with Spring Box Ta-94 is widely used in many parts of the world. Its scientific name is Crocus Sativus and it belongs to the group of lilies. Saffron spice is made from dried flower stigmas of the same name.

The use of saffron is 3500 years old. It has been one of the most expensive materials in the world throughout history. Today, Iran is the largest producer of saffron in the world. Iranian saffron is undoubtedly one of the best saffron in the world and Iranian saffron has many fans around the world.

This gift pack includes 9.21 grams of first-class saffron in two 4.6 gram jars. It also has a brass mortar, all of which is housed in a beautiful box and is a good gift option.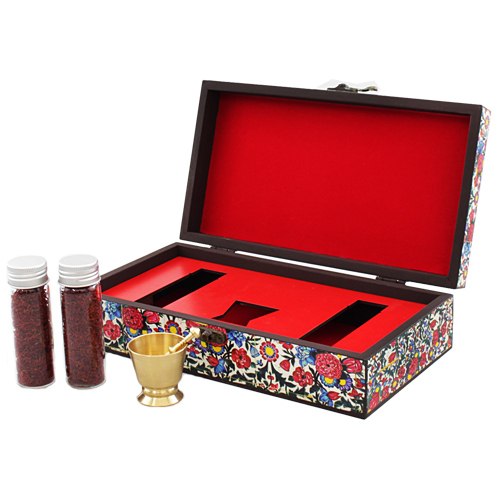 Why CyrusCrafts?
CyrusCrafts™ by an excellent infrastructure background,  professional and specialized activity in the field of sales and export of high-quality vintage and modern Iranian goods to different parts of the world, is now proud to offer you the most peculiar and original decorative and tasty items with the latest transfer processes, Support Customers and after-sales service, responsibly.
Size

26 X 14 cm

Material

saffron, brass pounder

Weight

5-10 grams (0.17-0.35 ounces)

Usage

Saffron Gift Box