Sairo Chocolate Ta-957| 128 grams
Produced in Iran 
Delicious chocolate
In the package of 128 grams (4.51 ounce)
Chocolate is one of the most delicious snacks that many children, teenagers, and even adults are interested in eating, and it is always the first choice as a snack. If you are looking for great chocolate with excellent taste, we will introduce you to buy Sairo Chocolate Ta-957. 
Sairo Chocolate Ta-957 detail
It is very delicious chocolate with a delightful aroma that is made from cocoa and other natural and high-quality raw materials. Sairo Chocolate is suitable for children's daily snacks and it is the most suitable option for entertaining guests. Chocolates have many properties, and many people eat chocolate to get its properties. Eating chocolate has a lot of purity for the human body and according to research can cure many diseases and prevent many diseases.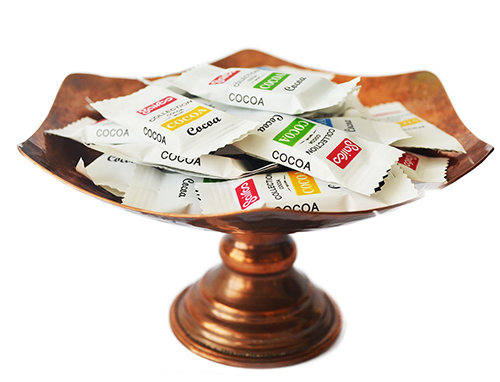 Benefits of cocoa for the body:
Cocoa is a rich source of antioxidants that are very useful and effective for the health of teeth, bones, skin, and hair.
Cocoa consumption can balance nitric oxide levels and reduce high blood pressure.
Consumption of large cocoa can improve heart function and prevent various heart attacks.
Cocoa is an energizer and a powerful antidepressant for the body.
Cocoa contains many flavonols, which positively affect type 2 diabetes.
Prevents all kinds of cancers.
Controls body weight and prevent weight gain.
Weight

150 gram (5.29 ounce)
You might also like
Tasty!
Aidin
Ta-241
Produced in Iran (Tabriz) With hazelnut kernels In package of 1 kg (2.2 pound)
Tasty!
Parmida
Ta-292
Produced in Iran Degree of bitterness: 84% Delicious vegan chocolate In package of 1 kg (2.2 pound)
Tasty!
Bykit
Ta-689
Produced in Iran dark chocolate with wafer Delicious chocolate Rich in energy In package of 500 gram (1.1 pound)