Persian Hand Carved Silver Ring & Bracelet for Men AC-751
Material: 925 silver
Ring size: up to 57 (produced based on your wrist size)
Ring Weight: ~ 5 g
Bracelet size: free-size (produced based on your wrist size)
Bracelet weight: ~ 13 g
Height of ring and bracelet: ~ 1 cm
Producer and Designers: Alireza Zaheeri & Khorshid Joulaee
This ring and bracelet are made of great 925 silver and designed with Iranian motifs (Khataee & Eslimi) by engraving technique. As this jewelry piece is well-designed and all smooth curved it would not be any problematic toward cloth or skin. 
Persian Hand Carved Silver Ring & Bracelet AC-751 Usage
With this charming accessory, you will attract every woman's look as you are crossing by or just sitting somewhere doing your business. this ring & bracelet set is a perfect match to be worn in ceremonies, parties, dating, at work, and so on. The color and design make the set an elegant choice for every man who likes being chic and gorgeous.

For being delightful and luxurious it is also a magnifying and special gift for your buddy, boyfriend, husband, father, or brother.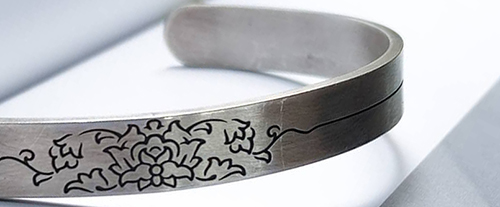 Other than charm, silver has been used for many centuries all over the world, and wearing it provides lots of benefits for the body. Antimicrobial properties of silver have proven results in preventing infections, managing colds and flu, and promoting wound healing. In addition, silver regulates body temperature and circulates blood.
Maintaining silver ring and bracelet AC-751
Hard impacts are harmful to every piece of jewelry and this one is just like others. The 925 silver is more resistant to tarnishing in comparison with other karats of silver. Silver jewelry of 925-karat is sturdier and doesn't need that much cleaning. However, since proper caring and maintenance are necessary for any fine jewelry, you may consider these two tips:
Keep the silver dry, even try to use perfume or so before wearing silver.
Keep the silver accessories in propper storage while not using them
Why CyrusCrafts™?
CyrusCrafts™, with its excellent infrastructure background, and professional and specialized activities in the field of exporting vintage and modern Iranian products worldwide, presents the most peculiar and original decorative and tasty items with the latest transfer processes, Support Customer and after-sales service.
With originality, quality, beauty, uniqueness, health, and a feeling of safety, we provide a safe buying and delivery experience.
Size

free-size

Material

Silver

Weight

~ 18 g

Target Gender

Mens clothing
You might also like
Accessory
Fam
AC-104
Size: free-size (adjustable) Height: 2.5 cm Material: 925 silver Weight: 6 g Technique: Engraving
Accessory
Alireza Zaheeri
AC-762
Height: ~ 2.5 cm Weight: ~ 22 g Material: 925 Silver Artists: Khorshid Joulaee & Alireza Zaheeri