Blue Turquoise & Silver Earrings AC-823
Height: 4 cm
Width: 4 cm
Material: Silver, Turquoise of Kerman
Style: drop
Closure type: stud
Weight of silver: ~ 11.5 g
Total weight: ~13.5 g
Khatoon silver earrings are all handcrafted with great materials and tools, passing through processes like sawing, welding, and stone setting by skilled artisans. The turquoise stones from Kerman used in these earrings are of great blue color with nice natural individual patterns and weigh about 2 grams. Considering they are all handmade, there may be a slight variance in their size and weight.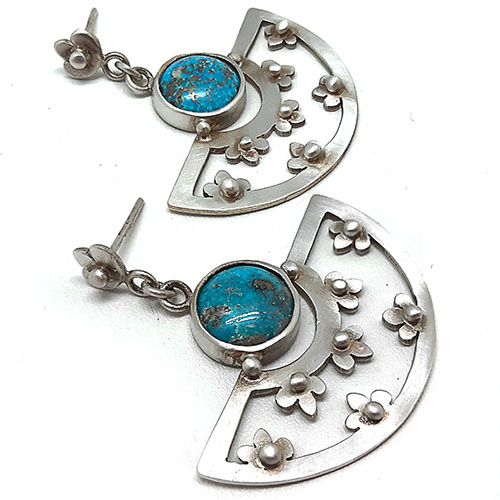 Tips For Blue Turquoise & Silver Earrings AC-823
You can wear them in professional attire like a dress or a fashionable pair of jeans and a top. Professional attire and studded earrings go wonderfully together because the jewelry pieces are very subtle, yet stylish and always in style. Especially if you happen to love more girly styles these are just the right choice for you. And also adding drop earrings to an evening gown is the perfect way to make the dress look more elegant. If you want to enhance an elegant evening dress with earrings, dangle earrings are an excellent choice.
For seeing more models of accessories and jewelry pieces with turquoise I invite you to take a tour through Cyruscrafts online shopping website, Cyruscrafts team is trying to offer you the best at a guaranteed price.
Turquoise of Persian or Iran on earrings AC-823
Although turquoise is generally a softer stone, the turquoise mined from Persia tends to be harder than turquoise extracted from anywhere else. Turquoise of Neyshabour is the best turquoise in the world. But other cities in Iran have mines of exquisite turquoise like Kerman. Turquoise from Kerman is available in shades of blue, greenish-blue, and green, and is rare and has a distinctive shine.
Why CyrusCrafts™?
CyrusCrafts™, with its outstanding infrastructure background, services, and expertise in selling high-quality vintage and modern Iranian goods worldwide, is now ready to offer you the most unique and original decorative and tasty items with the most modern transfer processes, after-sales services, and customer support.
Originality, quality, beauty, uniqueness, health, and a good sense of a secure purchase and delivery are all presented here.
Size

4*4 cm

Material

Silver

Weight

13.5 g
You might also like
Accessory
Fam
AC-710
Width: ~2.5 cm Height: ~5 cm Weight: ~9 g Material: 925 silver, synthetic amethyst
Accessory
Mona
AC-746
Circle Diameter: ~ 2 cm Dangle Size: ~ 2.5 cm Weight: 7 g Stone: Indian agate Material: Silver
Accessory
Mona
AC-778
Width: 2.5 cm Height: 3.5 cm Weight: 7 g Material: Jadestone, synthetic pearl, silver, enameling material