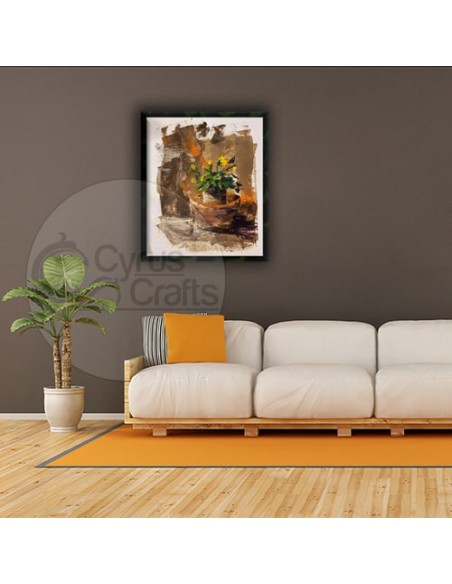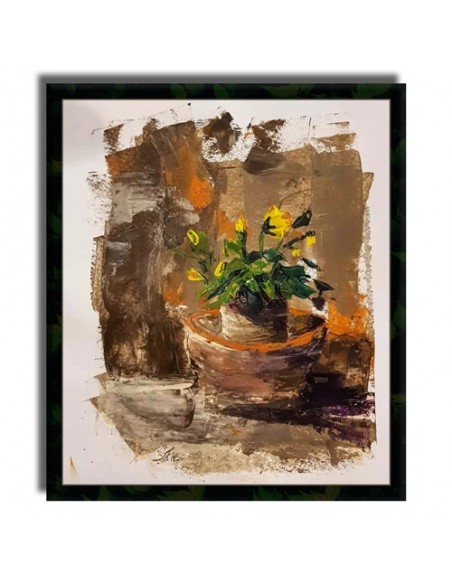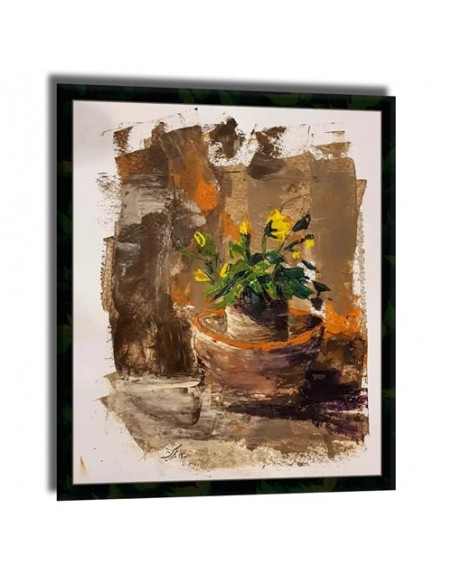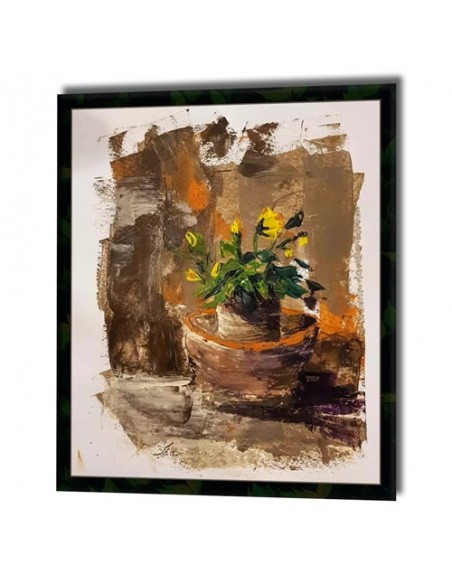 Acrylic Painting Cardboard "The Unpretentiousness AG-788"
Artist: Marry Bahman
Size: 30 x 40 (cm)      0' 9 x 1' 3 (ft)
Origin: Persian
Foundation/Material: Acrylic on Cardboard
UV Resistance: No
"The Unpretentiousness AG-788" decorative painting wall art
The ornate painting cardboard "The Unpretentiousness AG-788" by "Marry Bahman" is a floral painting tableau with a rare style and pattern in the diminutive size of 30 x 40 cm (0' 9 x 1' 3 ft) has been accomplished exerting acrylic technique on cardboard which makes this artwork exceptionally lightweight and thin, moreover easy to carry and set. The price of this piece of art is 100% economical, and almost everyone can afford to buy so.


The Unpretentiousness AG-788 cardboard risks!
Cardboard stands for any heavy-duty paper; therefore, the term is slightly avoided in the industry due to its vagueness. Cardboard art, however, is an art form that, besides the term's ambiguity, denotes good posters/paintings made from different types of this material.
Cardboard has a porous surface, making it difficult for some paints to adhere. Acrylic and spray paint are among the best paints for cardboard. But for the best results. And that acrylic painting on the cardboard can be very challenging, even with a paint primer; if you try painting with a thick layer of acrylic, you could risk letting the water seep in. However, you can still use acrylic paint on your cardboard if you don't dip your paintbrushes or sponges in water before and after using paint.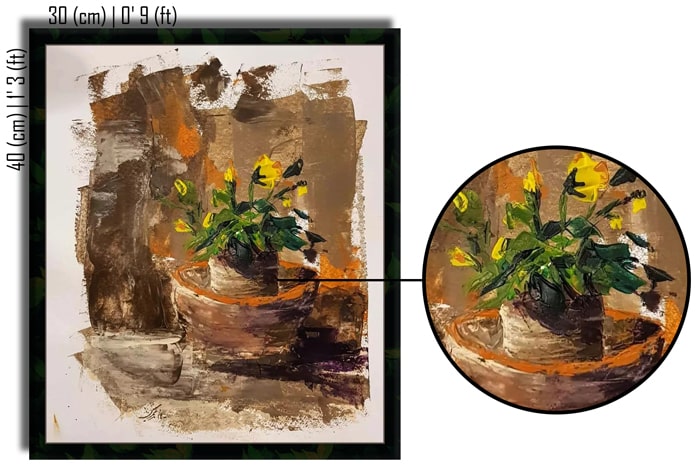 The Unpretentiousness AG-788 floral art
Over the centuries, artists have captured the rich symbolism of flowers, tracing the changing meanings of roses, irises, tulips, carnations, and more. Depending on the context, a single flower can represent reproduction or decay, purity or promiscuity, love or hardship—or nothing more than a pile of petals. Even though most artists paint flowers simply because it is a pleasing endeavor that is a fun challenge in color and form, it is an accessible subject that you don't have to spend a fortune on for props, yet the payoff can be solid gold.



Maryam Bahman
Persian painter
Maryam Bahman was born on April 24, 1985, in Tehran. She has a master's degree in animal physiology from Tehran and has been painting since 2010.
The first watercolor group exhibition was held in 2011. After that, in 2012 and 2013, she's been having solo and group exhibitions, respectively.
In 2015, She designed the statue of the 2nd IAPESGW Regional Symposium: Women's Empowerment in sport. She also designed the Bompad Statue and Corsac Fox watercolor and gifted it to the President of FISU in Gwangju 2015 games and 7 posters for the Ministry of Sports and Youth of Iran in 2015 and 2016. In the same years, she was the secretary of the think tank, the executive director of the Ministry of Sports and Youth, and the artistic advisor of the polo federation for several months.
In 2017, she won the watercolor exhibition at the Niş art gallery and DcKozmos gallery In Istanbul, and in the same year, she participated in the Fira Rome exhibition.
She also took courses in architecture and interior design in 2018. And in 2019, with a few friends, they opened the Manda Art and Architecture Atelier.
In 2020, she drew sketches for Gilgamesh magazine, and in 2021, she painted book sketches with the book design team from Kashan.
CyrusCrafts™ Interactive Artwork Shop
Producers and exporters of vintage and modern Iranian goods of high quality. With our excellent infrastructure, skilled and knowledgeable staff, and export services. We also offer the most original, diverse, decorative, and delicious items purchasable.  


What Do You Think About This Product?