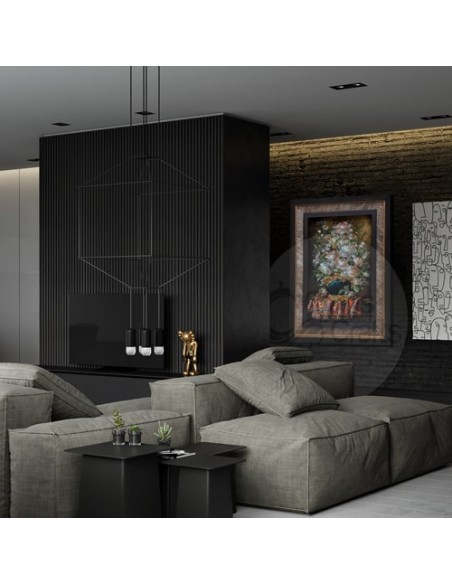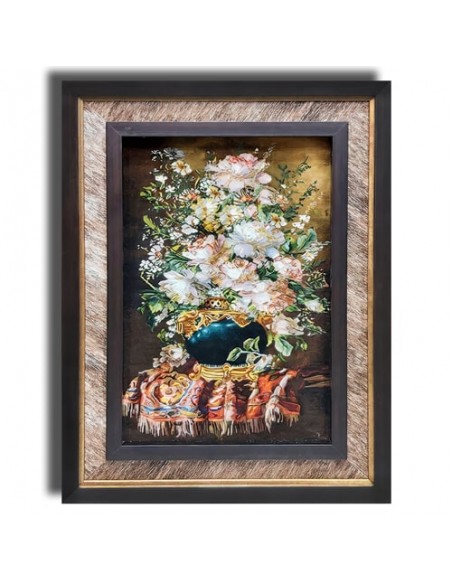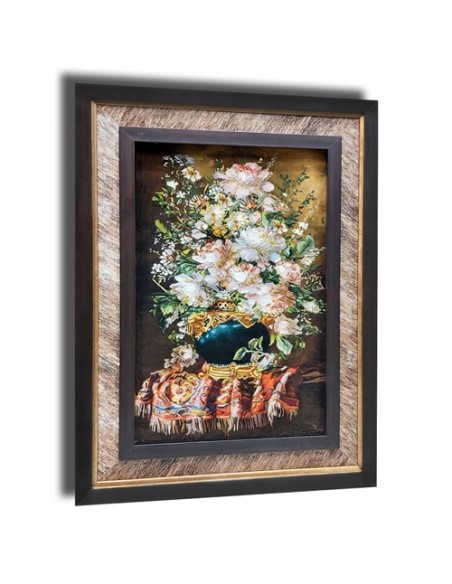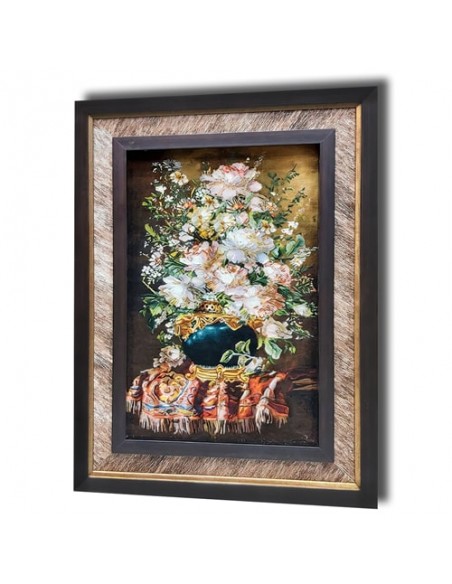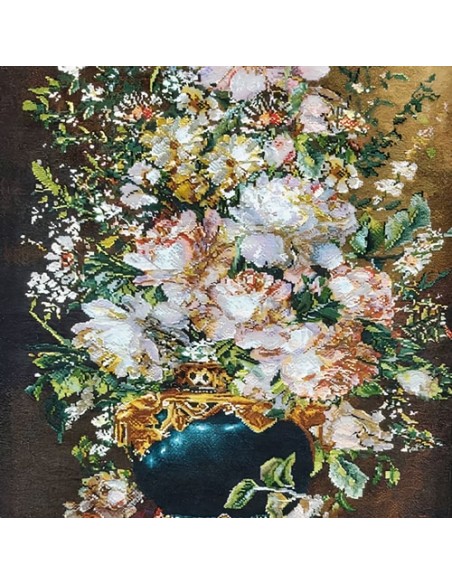 100% Hand-Made Tableau Carpet "Flowerpot AG-807"
Size: 40 x 60 (cm)      1' 3 x 1' 9 (ft)
Border Size: 65 x 85 (cm)      2' 1 x 2' 7 (ft)
Origin: Tabriz
Foundation/Material: Silk
Border Material: Wood
Border Color: Light and Dark Brown
Weave: 100% Hand Woven
KPSI: 50
Flowerpot AG-807 Tabriz, silk floral tableau rug/carpet MARKDOWN
The flashy Tabriz silk tableau carpet "Flowerpot AG-807" is a floral rug with 100% silk materials. Likewise, it has been made in Tabriz, a city that has been a significant and worldwide famous carpet-making center in Iran and the world. It's played a significant role in the development of the rich traditions of the decorative and applied arts. The art of Tabriz's carpet was in its zenith in the 12th-16th centuries, and today Tabriz is pretty much known for its high-quality silk and wool rugs and carpets.
So to the floral design, you can create cheerful feelings in your home by hanging "Flowerpot AG-807" around your house, which also elevates your spirit and inspires you to live with optimism.
Flowers are universally seen as symbols of beauty. They are also symbols of comfort, affection, and even bliss.
Flowerpot AG-807 chiaroscuro
Chiaroscuro uses strong contrasts between light and dark, usually bold contrasts affecting a whole composition. It is also a technical term used by artists and art historians to use contrasts of light to achieve a sense of volume in modeling three-dimensional objects and figures. Imagine how hard it could be to weave a carpet with the chiaroscuro technique; complex but massively rare.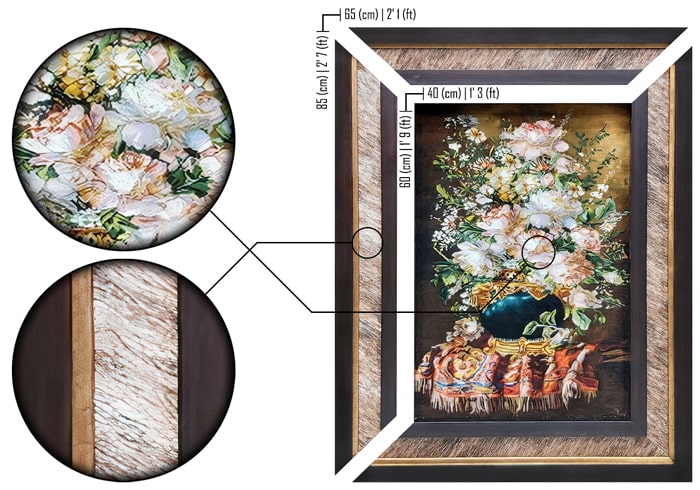 100% silk Flowerpot AG-807
There are no fibers as soft or luxurious as silk, and silk dyes are more durable and long-lasting than any other fiber used to make carpets today. However, silk's high cost often forces the fiber to be blended with wool, yet not in this one silk is considered one of the most pricey synthetic fibers. And Flowerpot AG-807 is entirely made of the highest quality silk.
Albeit, silk tableau rugs can be extremely prone to damage and hard to maintain with proper care and maintenance. Silk tableau rugs will last more than 100 years.
The design of silk tableau rugs is usually a bit more intricate than it is on wool tableau rugs. That is because silk, a finer material, allows more knots per square inch than other tableau rugs.


CyrusCrafts™ Online-Shopping
With our extensive infrastructure, remarkably professional sales knowledge, and exports, primarily both vintage and modern Iranian products, we are proud today to offer products directly to customers via the latest transfer methods, customer service, and after-sales support, which is quite a rarity nowadays.


Would you rate this product?