Handmade Jajim & Leather Backpack AC-393
width of bottom: 28 cm
height of bottom (depth): 15cm
height: 38 cm
substance: natural leather, Iranian Jajim
artist: Zahra Khorahsadi
This backpack providing a large space for your possessions is a well-made product of natural leather. Composing two substances, leather and Jajim has created a glamorous bag style for it in addition to its strength and functionality. Weaving Jajim is an art rooted in southern Khorasan of Iran.
This product has an inner pocket, two long adjustable straps, removable lining for cleaning purposes, and one handle on the top.
Maintenance Tips for Handmade Jajim & Leather Backpack AC-393
keeping the leather off moisture, perfumes, and liquid chemical substances. Polish it with leather wax.3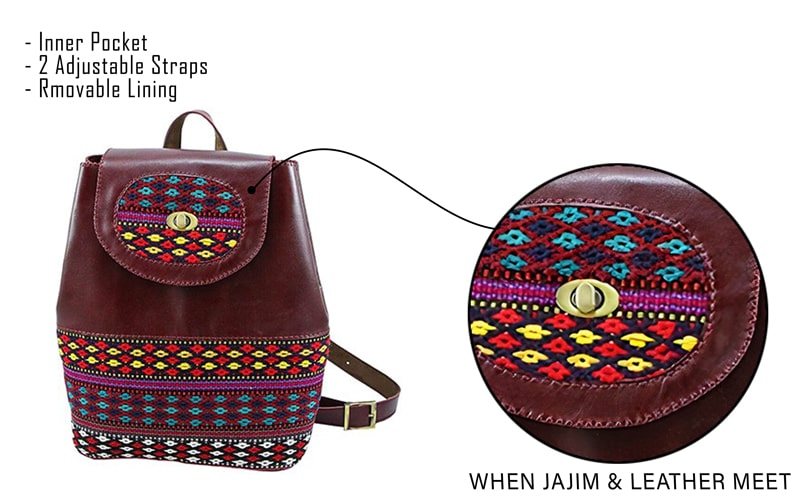 Why CyrusCrafts™?
CyrusCrafts™ by an excellent infrastructure background,  professional and specialized activity in the field of sales and export of high-quality vintage/modern accessories to different parts of the world, is now proud to offer you the most peculiar and original decorative and tasty items with the latest transfer processes, Support Customers and after-sales service, responsibly.
We present The Originality, quality, beauty, uniqueness, health, and a good sense of a safe purchase and delivery.
Material

natural leather

Originate

Khorasan

Color

Crimson