"Sama Dance" cushion cover Rumi Poem HC-13
Handmade cushion cover
Made by Professional art masters
Materials: Velvet, Zipper, Metal Zipper, Upholstery velvet
Sama means "listening" and "remembrance". These rituals often include singing, playing instruments, dancing, recitation of poetry and prayers, wearing symbolic attire, and other rituals. It is a particularly popular form of worship in Sufism. You can buy this "Sama Dance Velvet Cushion" handicraft with Pillowcase from Cyruscrafts Collection website.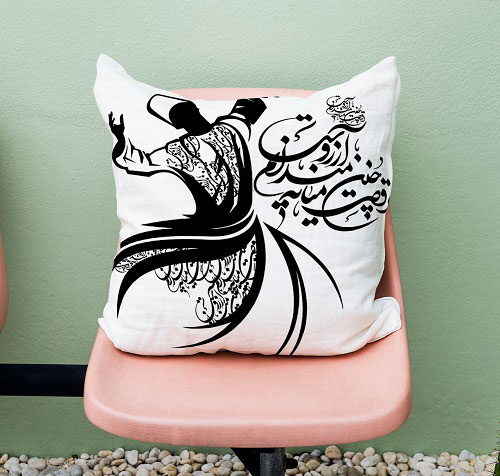 Why CyrusCrafts™?
CyrusCrafts™ by an excellent infrastructure background, professional and specialized activity in the field of sales and export of high-quality vintage and modern Iranian goods to different parts of the world, is now proud to offer you the most peculiar and original decorative and tasty items with the latest transfer processes, Support Customers and after-sales service, responsibly.
We present The Originality, quality, beauty, uniqueness, health, and a good sense of a safe purchase and delivery.