Modern Black Crystal Chandelier ID-1340
Material: Iron & Glass
Number of Flames: 6
Body Color: Black
Crystals Color: White
Height: 110 cm
Total Diameter: 90 cm
Complete Washable
This modern black crystal ceiling chandelier is one of the most beautiful crystal chandeliers of the CyersCrafts group. Iranian artists have constructed and assembled all components of this candle chandelier with their hands. No machines were involved in producing this beautiful chandelier. The black crystal candle chandelier that you see has some features. In this article, we want to explain its details.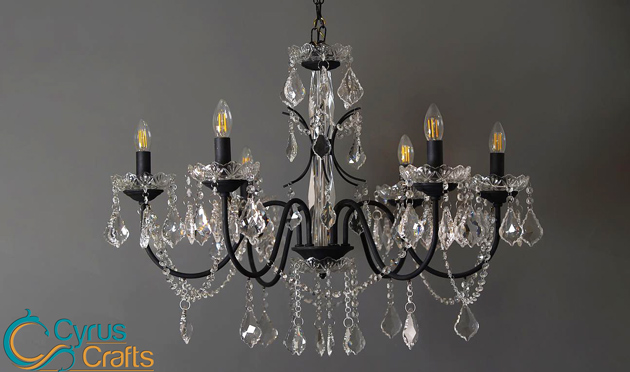 Details of the Modern Black Crystal Chandelier ID-1340
Components: This unique chandelier consists of two general categories of particles: iron components and crystal components. The designers of our team made the iron components of this modern chandelier from a durable and firm iron alloy, and they painted it with the highest quality black color. The crystal parts include pendants, bead threads, candlesticks, and the crystalline central body of the chandelier. Each of these crystal components is hand-carved into brilliant diamonds. CyrusCrafts' interior design team has beautifully decorated this unique chandelier with beautiful crystals.
Style: Our black crystal chandelier code ID-1340 has candle-shaped lamps, and that's why it is in the category of candle chandeliers. Despite the crystal pendalogue and beads, this lovely chandelier is not classic. It is a modern chandelier due to its new design and applying matte black iron alloy beside the shiny white crystals.
What you read was an overview of the features of the black crystal ceiling chandelier. Dear ones, you can see other Iranian handicraft lighting products, such as handmade chandeliers, on the CyrusCrafts website. Wherever you live, if you want to order any of our products, our partners can deliver your orders in the fastest time. Do not forget to help us provide better and more services by writing your ideas in the Review section.