Steel luxury Mirror Floor lamp code 350
Weight: 11 kilogram
Size: 13.77*13.77*55.11 Inches
Body Material: Mirror Steel
Wire Length: 59.05
Color: Golden
Steel Unique Crystal Floor lamp ID-267
In contrast to the common types of floor lamps on the market, which often use sensitive and breakable glass, the design of these floor lamps in the shams chandelier collection has tried to minimize the hassle of finding spare parts for the consumer. Therefore, using precious steel sheets, mirrors, and CNC laser cutting, can present a beautiful ruby design that is suitable for all the room styles and using situations, find the perfect light for your needs.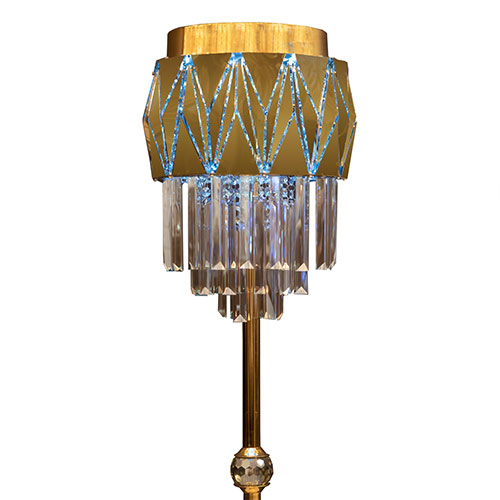 Initial constructions of unique floor lamp ID-267
Due to having integrated SMD lamps and remote control, you can enjoy a dreamy and beautiful nightstand along with the ability to adjust the number of lamps to turn on or off through this model stand.
Why cyruscrafts™?
With a strong infrastructure background, professional and specialized experience in the field of sales and exports of vintage and modern Iranian goods to various countries around the world such as Canada, CyrusCrafts team is now able to provide you with the most unique and original decorative and tasty items with the latest transfer processes, Customer support, after-sales services, responsibly. We offer Originality, Quality, Beauty, Uniqueness, Health, and a secure sense of delivery.