Handmade Octagonal Wooden Inlaid Jewelry Box AC-360
Width: 10 cm | 3.93 inch
Height: 10 cm | 3.93 inch
Depth: 3 cm | 1.18 inch
Thickness: 8 mm | 0.31 inch
Material: beech wood, inlaid work
Artist: Abasali Ayyobi
Pattern: geometric graph, blossom
Rings, necklaces, bracelets, hairpins, and other little treasures can comfortably nestle in the soft-covered box. Each jewelry box is entirely handcrafted, is a unique masterpiece, and is exclusive in its detail and individual character.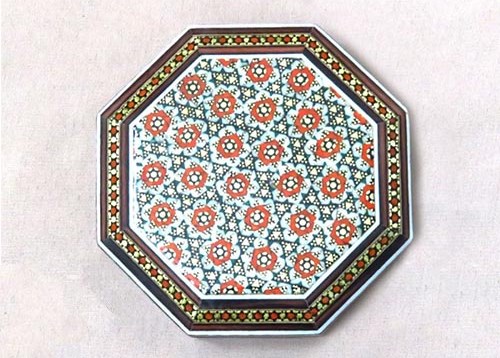 A closer look at the octagonal inlaid jewelry box
An Iranian significant handiwork which is so valuable. this box is produced in an octagonal shape and is so handy for keeping your jewelry and at the same giving a great looking to your house as it is so eye-catching. A polyester layer has covered the whole box to put a shine on its pattern and also keep the wood away from harmful situations, such as insects and moisture.
Why CyrusCrafts™?
CyrusCrafts™ by an excellent infrastructure background,  professional and specialized activity in the field of sales and export of high-quality vintage and modern Iranian goods to different parts of the world, is now proud to offer you the most peculiar and original decorative and tasty items with the latest transfer processes, Support Customers and after-sales service, responsibly.
We present The Originality, quality, beauty, uniqueness, health, and a good sense of a safe purchase and delivery.