Khatam Jewelry Box with Miniature Chogan Painting HC- 56
Khatam Jewelry Box 
Outer Material: Wood
Design: Chogan
Max Width: 11 cm
Max Length: 16 cm
Max Height: 6 cm
Khatam means "incrustation", and Khatam-Kari means "incrustation work".
Khatam Jewelry Box with Miniature Chogan Painting HC- 56 Details
This handicraft consists of the production of incrustation patterns (generally star-shaped, with thin sticks of wood (ebony, teak, Ziziphus, orange, rose), brass (for golden parts), camel bones (white parts). Ivory, Khatamkari gold, or silver can also be used for collection objects. Sticks are assembled in triangular beams, themselves assembled and glued in a strict order to create a cylinder, 70 cm in diameter, whose cross-section is the main motif: a six-branch star included in a hexagon. These cylinders are cut into shorter cylinders, and then compressed and dried between two wooden plates, before being sliced for the last time, in 1 mm wide tranches. These sections are ready to be plated and glued on the object to be decorated, before lacquer finishing.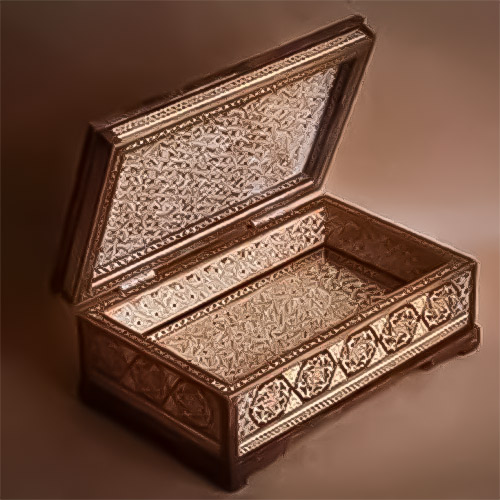 Why CyrusCrafts™?
CyrusCrafts™ by an excellent infrastructure background,  professional and specialized activity in the field of sales and export of high-quality vintage and modern Iranian goods to different parts of the world, is now proud to offer you the most peculiar and original decorative and tasty items with the latest transfer processes, Support Customers and after-sales service, responsibly.
We present The Originality, quality, beauty, uniqueness, health, and a good sense of a safe purchase and delivery.