Tazhib Minature Painting Jewelry Box AC-26
Width: 7 cm
Height: 7 cm
Depth: 4 cm
Material: camel bone
This is an exquisite jewelry box made from marble stone which is known for its resistance and beauty. Made in Iran, these beautiful boxes have an eye-catching flower on the lid. The lid is connected to the bottom by the hinge. It is a convenient treasure box for storing rings, coins, crystals, and more. Place one or two on your dressing table for a natural marble stone box that will enhance your decoration while protecting your valuable jewelry. Buy it for yourself or as a gift to your mom, sister, girlfriend, wife, or any person you know who appreciates excellent things! It would be an unforgettable present. Also, visit our other jewelry boxes to get more gift ideas.
Making the marble jewelry box AC-26 is empowering art
We work intending to revive these art forms and empower the skilled artisans to present their creativity in a whole new range of products never crafted before. The symmetry present in the handmade product makes it truly unique and beautiful. Simple and compact design jewelry box with an elegant outer look, perfect for all women and girls.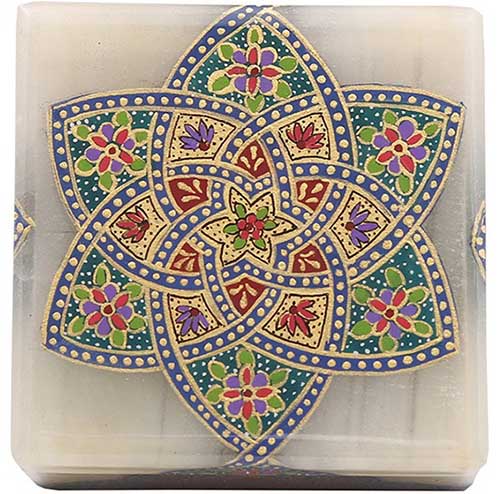 Since it is handcrafted individually, there is a possibility of a slight difference in color and/or designs.
Prevent hard impacts and just wash it with water and mild soap, however, the colors are fixed. Directed high-temperature light is harmful and changes the look.
Why CyrusCrafts™?
CyrusCrafts™ by a first-rate infrastructure background,  professional and specialized activity in the major of sales and export of high-quality vintage and modern Iranian goods to various parts of the world, is now proud to offer you the most peculiar and original decorative and tasty items with the latest transfer processes, Support Customers and after-sales service, responsibly.
We introduce Originality, quality, beauty, uniqueness, health, and a good sense of a safe purchase and delivery.