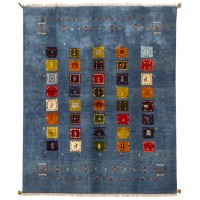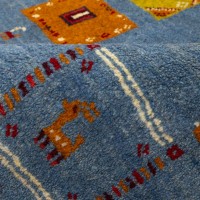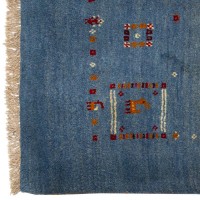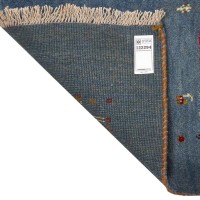 Persian Handmade Blue 6'X8' Gabbeh Rug Rc-335
Shiraz Hand-woven Gabbeh Rug Rc-330
Length: 8' 2.4" (250 cm) / Width: 6' 8.76" (205 cm)
Density: 20 raj (knot per 7 cm)
Note: The raj is a unit for measuring the quality of the carpet, which shows the density of the number of carpet knots in the dimensions of 7 cm. the higher the density, the more exquisite the carpet will be.
If you want to know more about this Persian handmade blue 6'X8' Gabbeh rug Rc-335, it is better to read this text to the end. One of the essential elements of any decoration that attracts a lot of attention is the carpet. The carpet is an inseparable and warm part of the decoration, the absence of which makes the home space cold and soulless. The Iranian carpet industry has a lot of variety. Depending on the model, design, material, etc., it is divided into different types: hand-woven carpet, modern carpet, machine-woven carpet, Kilim rug, and Gabbeh rug.
The Unique Features of This Persian Handmade Blue 6'X8' Gabbeh Rug Rc-335
What has perhaps increased the popularity of the Gabbeh rug is the quality and durability of this carpet, along with its very reasonable and low price compared to other Persian handmade carpets, which is why this carpet is a suitable choice for use in the kitchen, and bedroom. If your carpet gets damaged in these high-traffic areas, you can easily replace it, and don't worry about its high price.
Maybe when it comes to buying rugs, your mind will unconsciously go to the old designs of hand-woven rugs, but designs like this, which are simple, full of beautiful and casual colors, will make your home modern and original.
Gabbeh rugs are very easy to care for. Although Gabbeh rugs have longer lint than carpets, they are easily cleaned with a vacuum cleaner, and carpet shampoo can be used for extra cleaning. Due to its pile and texture, Gabbeh creates a much warmer and more intimate atmosphere than a regular rug. It has a lot of beauty, can bring Iranian art and culture into your home, and can be combined with even the most modern layouts.
Cyruscrafts, present the originality, quality, beauty, uniqueness, health, and a good sense of a safe purchase and delivery.