Machine-woven Circular Rug Rc-224
Machine-knotted circular rug Rc-224
High durability and excellent quality 
Length: 4' 11.04" (180 cm) / Width: 3' 3.36" (120 cm)
Longitudinal density of the gabbeh: 1250 shaneh
Note: The number of weft yarns per meter of carpet length is called the longitudinal density. for example, a carpet with a density of 1000 has a yarn equivalent to 1000 yarns per meter in length. the higher the density and comb of the carpet, the longer the carpet will last.
The special effect that a machine-woven circular rug Rc-224 has on any space is undeniable. It is a choice that brings with it a special "fashion" and highlights the arrangement space. The visual function of a circular rug is like an important decorative object in a decoration.
Machine-woven circular rug Rc-224 in decoration
Due to its color and design, this white rug has a unique effect and shines in the space. Such a carpet, which has a state of aristocracy, is also modern; In fact, it gives the space a classic modern style. The soft curve of the carpet modulates static lines and sharp angles in furniture and decoration accessories and shines like a full moon disk on the floor of the room!
If the color of the carpet is chosen with a completely different color dominating the space, the charm of this contrast will dominate the space. Sometimes the carpet we choose compensates for the contradictions that exist in the accessories and furniture, and the result of choosing the right carpet will be the creation of harmony in the whole space.
The best place to spread a circular rug is in the center of the room. This machine-woven carpet can be used as a special separator of one space from another because due to its pure shape, the eye perceives it as a place independent of the rest of the space.
This quality carpet can also be used to fill in the empty corners of the room, especially if the room is large. In minimalist and secluded decorations, circular carpets give a pleasant visual space, color, pattern and texture and visually enhance the space.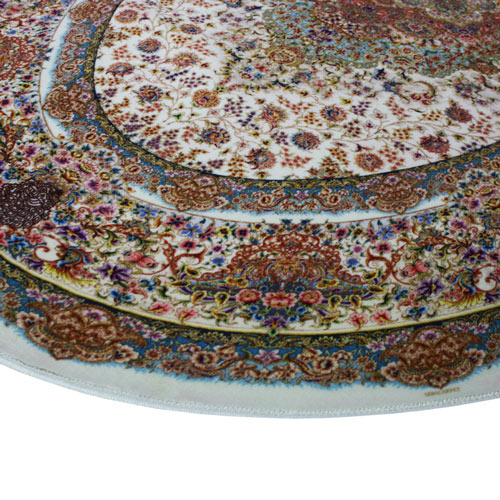 CyrusCrafts™ by an excellent infrastructure background,  professional and specialized activity in the field of sales and export of high-quality vintage and modern Iranian goods to different parts of the world, is now proud to offer you the most peculiar and original decorative and tasty items with the latest transfer processes, Support Customers and after-sales service, responsibly.

We present The Originality, quality, beauty, uniqueness, health, and a good sense of a safe purchase and delivery.
Size

4' 11.04" X 3' 3.36"

Material

Vortex

Originate

In Persia (Iran)

Color

White

Density

1250 shaneh

Usage

Home Decoration