Original Bahraman Saffron Ta-204| gift pack
Produced in Iran
Gift pack
Contains 16 grams of saffron
Contains 15 grams of cardamom
With brass pounder
Product weight: 1311 grams (2.89 pounds)
Original Bahraman Saffron Ta-204 Contains 16 grams of saffron. This beautiful gift pack, in addition to the saffron in it, has 15 grams of fragrant and quality cardamom. Bahraman gift pack, which is very stylish and valuable, also has a brass pounder.
Benefits of Bahraman Saffron Ta-204
Saffron stimulates the nerves and helps to improve mental problems such as depression and anxiety. It also improves sleep quality and helps fight obesity by regulating appetite. Bahraman Saffron is also rich in omega-3, which supports the formation of vitamin B6.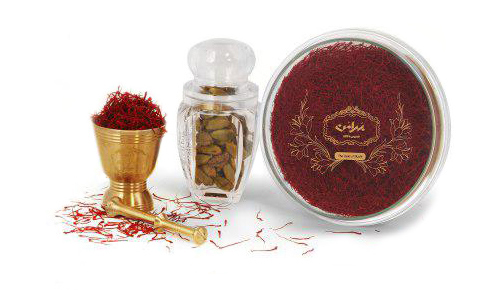 This gift pack can be a very convenient and stylish choice for those who want to buy saffron a valuable gift for friends and colleagues. This gift pack also contains a very stylish package, including a wooden box and a velvet cover, which are used in this package.
Why CyrusCrafts?
CyrusCrafts™ by an excellent infrastructure background,  professional and specialized activity in the field of sales and export of high-quality vintage and modern Iranian goods to different parts of the world, is now proud to offer you the most peculiar and original decorative and tasty items with the latest transfer processes, Support Customers and after-sales service, responsibly.
We present The Originality, quality, beauty, uniqueness, health, and a good sense of a safe purchase and delivery.
Material

saffron, cardamom, pounder

Weight

More than 50 grams

Usage

Saffron Gift Box

Brand

Bahraman Saffron