MohammadSima Roulette Sohan Ta-252| 570 gram pack
Produced in Iran (Ghom)
With pistachio kernels, walnut kernels, and peanuts
Roulette sohan       
With metal box
In package of 570 gram (1.25 pound)
MohammadSima Roulette Sohan Ta-252 detail
Sohan is one of the popular Iranian snack that have a very pleasant aroma and it is rich in nutrients that are very useful for young and old. Wheat germ, butter or animal oil, saffron, cardamom, pistachio kernels, and almonds are the raw materials for preparing sohan.
Sohan is a souvenir of Qom that is produced in different forms and the name of this sweet is due to its effect on digestion.
Roulette sohan is one of the types of Sohan that is very tasty. This type of sohan is in thin layers with a lot of almond and pistachio kernels.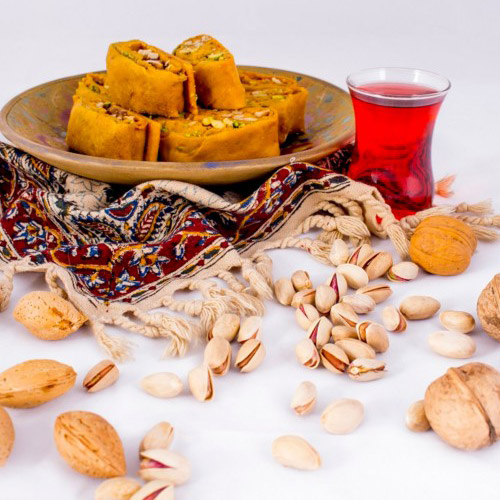 MohammadSima Sohan has lots of benefits for the body due to its compounds, strengthens the nerves and psyche, stores energy in the muscles, and prevents fatigue and lethargy.
Why CyrusCrafts?
CyrusCrafts™ by an excellent infrastructure background,  professional and specialized activity in the field of sales and export of high-quality vintage and modern Iranian goods to different parts of the world, is now proud to offer you the most peculiar and original decorative and tasty items with the latest transfer processes, Support Customers and after-sales service, responsibly.
We present The Originality, quality, beauty, uniqueness, health, and a good sense of a safe purchase and delivery.
Material

Flour, wheat germ, sugar, butter, cardamom, saffron, egg yolk, Pistachios, walnuts and peanuts

Weight

500-1000 grams (17.63-35.27 ounces)

Brand

Mohammadsima Sohan