Kermani Sohanasali Ta-406| 530 gram pack
Produced in Iran
with honey and butter oil
Contain pistachio kernels and almond
In package of 530 gram (1.16 pound)
About Kermani Sohanasali Ta-406
Sohan Asali is a Persian Sohan that is made of honey and butter oil and is different from Sohan Qom in taste, texture, and appearance and has less fat than other Sohans.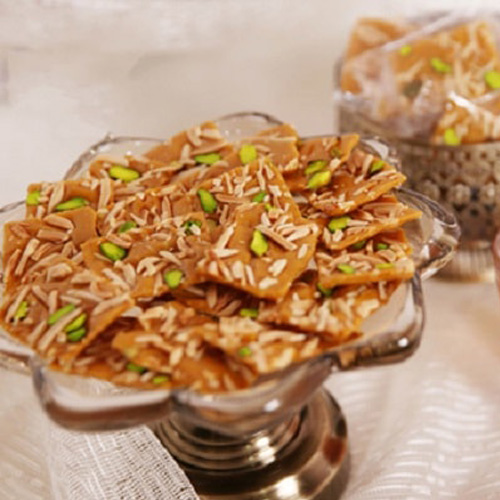 Kermani Sohan Asali is thin and crispy and is decorated with many pistachios and almonds. It contains wheat germ flour and honey and is very nutritious and due to having high-quality butter, honey, cardamom, and saffron have a very pleasant aroma and taste.
Why CyrusCrafts?
CyrusCrafts™ by an excellent infrastructure background,  professional and specialized activity in the field of sales and export of high-quality vintage and modern Iranian goods to different parts of the world, is now proud to offer you the most peculiar and original decorative and tasty items with the latest transfer processes, Support Customers and after-sales service, responsibly.
Size

3.5 × 21.5 × 21 cm

Material

White sugar, butter oil, vegetable oil,​​almond kernels, ​​pistachio kernels, honey, wheat flour, cardamom, wheat germ flour, saffron, water

Weight

500-1000 grams (17.63-35.27 ounces)

Brand

Kermani Sohan