Antique Gaz Ta-544| 28% almond
Produced in Iran (Isfahan)
Along with almond kernels
16 pieces in box
About Antique Gaz Ta-544
Gaz is a traditional Iranian dessert made from honey or sugar. Isfahan is the largest producer of Gaz in Iran. 
Antique Gaz, which consists of flour and eggs, has special additives to give it a different taste. Although pistachio is the most popular of these additives, almond is one of the most widely used additives.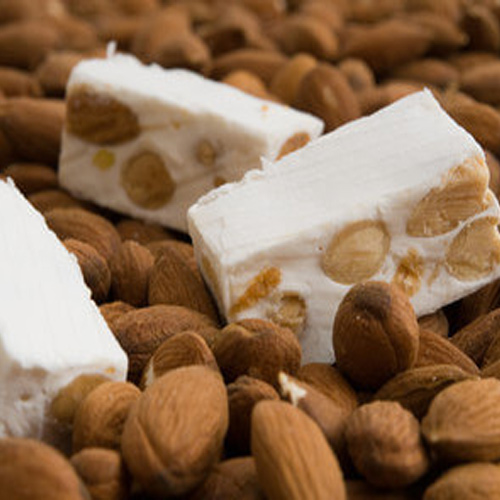 Almonds are very nutritious and useful. Almonds are rich in vitamin E and rich in calcium, phosphorus, iron, magnesium, zinc, and copper. Almonds ensure brain health and help regulate blood cholesterol levels. Improving bone health, preventing heart disease, and strengthening the immune system are other benefits. So choosing almond turmeric can help your health a lot.
Why CyrusCrafts?
CyrusCrafts™ by an excellent infrastructure background,  professional and specialized activity in the field of sales and export of high-quality vintage and modern Iranian goods to different parts of the world, is now proud to offer you the most peculiar and original decorative and tasty items with the latest transfer processes, Support Customers and after-sales service, responsibly.
Weight

200-400 grams (7.05-14.10 ounce)

Usage

Ordinary Box Gaz

Type

Almond Gaz

Brand

Antique Gaz
You might also like
Tasty!
Antique
Ta-136
Produced in Iran (Isfahan) Gaz, 30% pistachio
Tasty!
Kermani
Ta-246
Produced in Iran (Isfahan) Flour Gaz With 38%almond In package of 450 gram (145.87 ounce) 15 pieces in a box
Tasty!
Mozaffari
Ta-403
Produced in Iran (Isfahan) Includes four rows of Gaz: Angabin pistachio Gaz 40%, pistachio Gaz 40%, Bidmeshk pistachio Gaz 40%, almond Gaz 40% 44 pieces inbox In package of 500 gram (17.63 ounce)