Tayefeh Hashemi Aromatic Rice Ta-641| 3.5 kg pack
Produced in Iran (Asataneh Ashrafieh)
Aromatic rice
Long grain rice
Grade 1 rice
In package of 3.5 kg (7.71 pound)
Tayefeh Hashemi aromatic rice Ta-641 datail
Hashemi rice is a long-grain variety and grows well when cooked. This rice is well-cooked rice and its grains are evenly and separately after cooking. Another reason that forces you to buy Hashemi rice is its excellent flavor. Tayefeh rice is organic and natural and it has no cholesterol.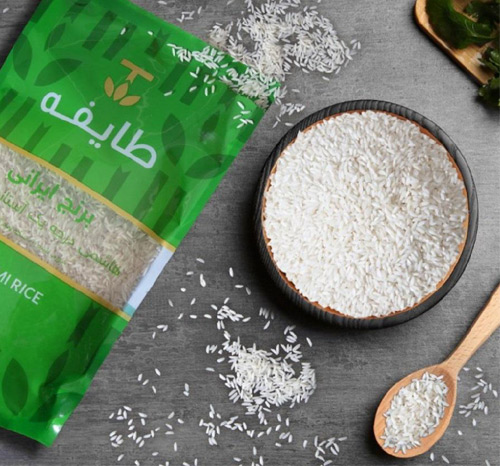 Hashemi rice is a non-transgenic product
Other features of this product include non-transgender. Non-transgenic crops are products that have not undergone genetic changes and are produced naturally without any manipulation.
Why CyrusCrafts?
CyrusCrafts™ by an excellent infrastructure background,  professional and specialized activity in the field of sales and export of high-quality vintage and modern Iranian goods to different parts of the world, is now proud to offer you the most peculiar and original decorative and tasty items with the latest transfer processes, Support Customers and after-sales service, responsibly.
We present The Originality, quality, beauty, uniqueness, health, and a good sense of a safe purchase and delivery.
Weight

3.5 kg (7.71 pound)
You might also like
Tasty!
Keshmoon
Ta-199
Produced in Iran (Gilan) High quality Unmixed In package of 5 kg (11.02 pound)
Tasty!
Raftari
Ta-230
Produced in Iran (Gilan) High quality Long grain rice In package of 10 kg (22.04 pound)
Tasty!
CyrusCrafts™
Ta-416
Produced in Iran (Mazandaran) Premium rice High nutritional value In package of 10 kg (22.04 pound)