Saffron Salted Pistachio with Shell Ta-65
Produced in Iran 
Pistachio type: Kaleghochi pistachio
Saffron salted pistachio
Can be ordered in two weights of 1000 gram (35.27 ounce) and 500 gram (17.63 ounce)
About Saffron Salted Pistachio with Shell Ta-65
Saffron salted pistachio is one of the most delicious types of saffron nuts. Best pistachios are a source of plant protein and help absorb vitamins. Saffron Salted Pistachio with Shell Ta-65 has a lot of fiber and is involved in the digestion of food. Strengthening the immune system, relieving lethargy, regulating cholesterol and blood sugar, strengthening the muscles of the body are other benefits of pistachios. Pistachio is an excellent food for athletes, staff, and students.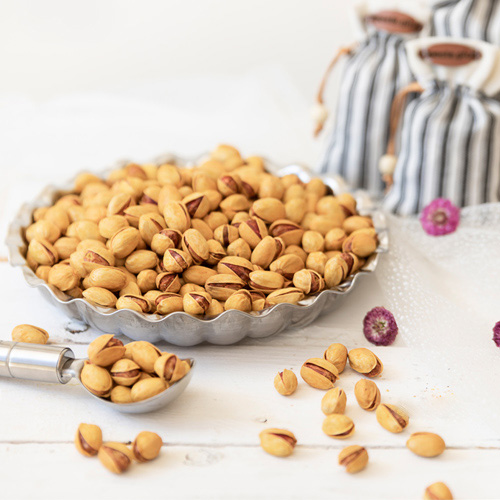 Why CyrusCrafts?
CyrusCrafts™ by an excellent infrastructure background,  professional and specialized activity in the field of sales and export of high-quality vintage and modern Iranian goods to different parts of the world, is now proud to offer you the most peculiar and original decorative and tasty items with the latest transfer processes, Support Customers and after-sales service, responsibly. We present The Originality, quality, beauty, uniqueness, health, and a good sense of a safe purchase and delivery.
Weight

1 kg (2.2 pound)
500 gram (17.63 ounce)
You might also like
Tasty!
CyrusCrafts™
Ta-352
Produced in Iran Raw pistachio High quality In package of 1 kg (32.27 ounce)
Tasty!
CyrusCrafts™
Ta-565
Produced in Iran Premium pistachios In package of 400 gram (14.10 ounce)