Kermani Gaz Ta-664| Pistachio and Almond Mixture 28%
Produced in Iran (Isfahan)
Pistachio and almond mixture
The healthiest source of energy
Calories per 100 grams: 388 kcal
In package of 450 gram (0.99 pound) 
Gaz is the most prominent symbol of the art of confectionery in Isfahan and is the most important souvenir of Isfahan.
What is Kermani Gaz pistachio and almond mixture?
Kermani Gaz pistachio and almond mixture is a type of sweetness that is not used in the production of any chemical additives such as paints, essential oils, and preservatives and is free of all the losses that such substances have for the consumer. In addition, due to the use of numerous for this reason, it may be said that Kermani Gaz is the best sweet for all ages, especially children.  Special herbal additives, each of which alone has several proven properties, it is rich in properties.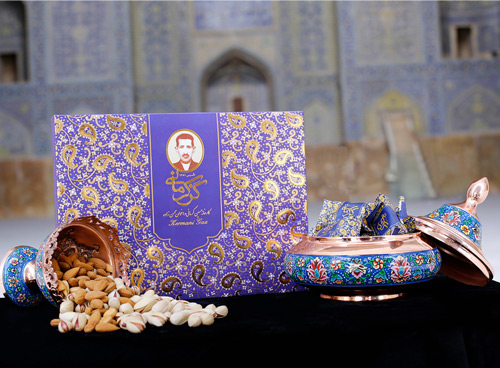 Conditions and method of maintenance of Kermani Gaz:
Gaz should be stored in a cool, dry place away from sunlight, at temperatures below 20°C. The best way to buy is as much as consumption. But if you want to keep The Kermani Gaz for a long time, but each package on a nylon bag before opening the veneer and pack in such a way that the ambient air does not enter it and put it in the freezer, this way you can keep Kermani Gaz for up to a year.
Why CyrusCrafts?
CyrusCrafts™ by an excellent infrastructure background,  professional and specialized activity in the field of sales and export of high-quality vintage and modern Iranian goods to different parts of the world, is now proud to offer you the most peculiar and original decorative and tasty items with the latest transfer processes, Support Customers and after-sales service, responsibly.
Size

30 × 20 × 5 cm

Material

Glucose, pistachio and almond kernels, sugar, pasteurized egg whites, rose water, special herbal ephedons, drinking water.

Weight

400-600 grams (14.10-21.16 ounce)

Usage

Ordinary Box Gaz

Type

Pistachio Gaz

Brand

Kermani Gaz
You might also like
Tasty!
Antique
Ta-136
Produced in Iran (Isfahan) Gaz, 30% pistachio
Tasty!
Kermani
Ta-246
Produced in Iran (Isfahan) Flour Gaz With 38%almond In package of 450 gram (145.87 ounce) 15 pieces in a box
Tasty!
Antique
Ta-544
Produced in Iran (Isfahan) Along with almond kernels 16 pieces in box