Fig and Walnut Masghati Ta-70| 400 gram
Produced in Iran
With fig and walnut kernels
Healthy sweet and desert
25 pieces in a pack
Net weight: 400 grams (14.10 ounce)
Overall weight: 416 grams (14.67 ounce)
Masghati with fig and walnut feature
Figs, walnuts, and starch is the compound that makes this delicious dish. This creative combination has been marketed by the Shigvar brand in Masghati with fig and walnut. The color of these small rectangles is cream and it is covered with powder. Every 30 grams of Shigvar has 101.46 kcal of energy, 1.74 g of fat, 19.19 g of carbohydrates, 12.63 g of sugar, and 0.9 g of protein. Masghati is a delicious sweet that you can use at your parties.
Masghati is actually a traditional pastry that has a unique taste among other sweets. Masghati is actually a combination of saffron, rose, nuts such as pistachios, almonds, walnuts, hazelnuts, etc. Due to the presence of these compounds, this sweet can be a good substitute for sugar so that you can drink it with your tea or coffee.
The high energy of this dish due to the presence of starch makes it a perfect snack. Muscat figs and walnuts can be enjoyed with your tea or coffee and enjoy its pleasant taste.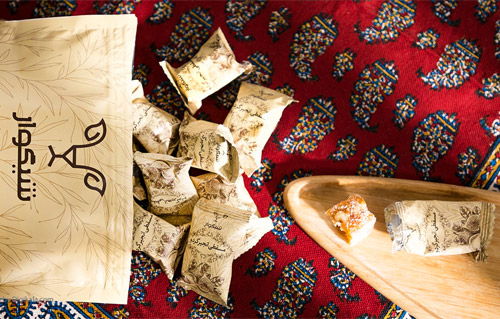 Masghati benefits
Muscat is rich in a variety of proteins, carbohydrates, and minerals, and due to its saffron has a calming and memory-enhancing effect. Muscat causes a lot of energy in people. Also, if different brains are used in it, its energy will be different accordingly. Muscat has a warm nature and because it uses a variety of nuts, saffron, rose and cardamom, it has a high nutritional value and by eating it, a lot of calories are created in the body.
Why CyrusCrafts?
Our extraordinary infrastructure, professional and specialized activities in the field of sales and export of antique and modern Iranian goods to different parts of the world have allowed us to offer you the most unusual and original decorative and tasty items with the newest transfer processes, Professional customer support, and after-sales service.
Size

26.5 × 18 × 7 cm

Weight

400 gram (14.10 ounce)

Usage

sweet, desert
You might also like
Tasty!
Aidin
Ta-241
Produced in Iran (Tabriz) With hazelnut kernels In package of 1 kg (2.2 pound)
Home
Haj khalifeh
Ta-467
Produced in Iran (Yazd) delicious sweets high quality In package of 550 gram (19.4 ounce) 
Tasty!
Shoniz
Ta-663
Produced in Iran Chocolate with hazelnut kernels and chocolate wafer Delicious Iranian chocolate Has a beautiful appearance In package of 1 kg (2.2 pound)