Iranian Royal Beluga Caviar Ta-95| 150 and 250 grams packs
Produced in Iran 
High-quality Iranian caviar
Caviar grain color: dark grayish color
Caviar grain size: 3.3 mm
In the package of 150 gram (5.29 ounce) and 250 gram (8.81 ounce)
Beluga caviar extract from female elephant fish. Elephant fish is the largest fish in Iranian inland waters, which ranked as #1 in terms of caviar quality.
Benefits of Persian Royal Beluga Caviar 
Beluga caviar is delicious and valuable food that is very energetic and invigorating. Caviar ingredients include protein, vitamins, water, enzyme, and various hormones.
The high percentage of protein and essential amino acids in caviar makes it a vital, valuable, and expensive substance.
Eating caviar prevents depression and cardiovascular disease because caviar has a very high concentration of omega-3 fatty acids. In addition, caviar is rich in a compound called "Ctacosand" which is long-chain fatty alcohol that converts to fatty acids in the body. These fatty acids play an important role in the synthesis of myelin (nerve cell lining). For this reason, caviar consumption is very effective on the health of nerve cells.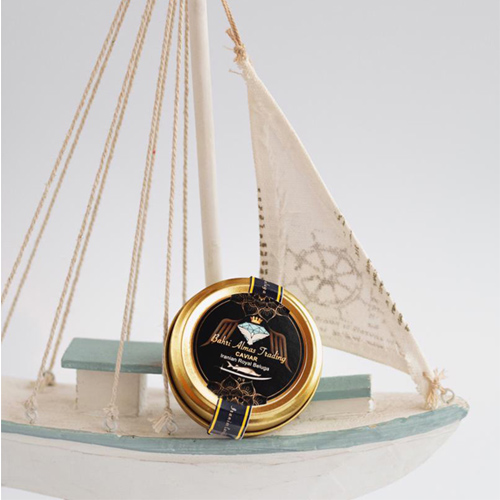 About product packaging 
The packaging of this product is in a completely hygienic environment and special conditions such as packaging and processing of the product within 24 hours to increase the quality and durability of caviar.
Product storage conditions 
The maximum storage time of Royal Beluga caviar without quality loss and freshness of the product is two months in the refrigerator. (if the package has not opened.)
If you open the packaging, the product should consume for a maximum of 3 weeks to 1 month.  
Why CyrusCrafts?
CyrusCrafts™ by an excellent infrastructure background,  professional and specialized activity in the field of sales and export of high-quality vintage and modern Iranian goods to different parts of the world, is now proud to offer you the most peculiar and original decorative and tasty items with the latest transfer processes, Support Customers and after-sales service, responsibly.
Weight

150 gram (5.29 ounce)
250 gram (8.81 ounce)
You might also like
Tasty!
Culture
Ta-189
Produced in Iran  Has a pearly white color In package of 50 gram (1.76 ounce)
Tasty!
Bahoo caviar
Ta-222
Produced in Iran  From Suruga and berry caviar With wonderful taste and appearance In package of 50 gram (1.76 ounce)
Tasty!
CyrusCrafts™
Ta-437
Produced in Iran Delicious and high-quality caviar Caviar with light color In package of 50 gram (1.76 ounce)