Carpet Clutch Bag AC-1084
Material: Rug & leather
Size: 30*24 | 11.81*9.44
Color: Red & black
Gender: Woman
Handmade clutch
Gisoo women's clutch bag is entirely hand-sewn; the material of this bag is natural leather and a sixty-year-old Iranian carpet.
About clutch bags
You will be surprised to know that the clutch bag has been popular since the Babylonian era. The people of Babylon used the clutch bag to participate in religious ceremonies!
Today, clutch bags are produced in various colors and designs at parties. Despite the large production of this bag model, buying a unique and attractive clutch bag is a difficult task!
Gisoo clutch bag is the best choice for a stylish and distinctive style due to the use of unique and hand-embroidered Iranian carpets because it is not like this bag in any store.
 Only one of these bags is produced, and if ordered, another rug is used to make this bag.
Style with clutch bag
Monochrome style with the clutch bag will make you more attractive than ever. Neutral colors such as white, gray, black, and ninety are easily matched with the clutch bag.
In addition to partying, the clutch bag is also suitable for the street. This bag combines beautifully with a classic suit. This style will make you shine.
The size of this bag is 24 x 30, which has enough space for a mobile phone and a small wallet. For more comfort, you can order this bag with a long leather strap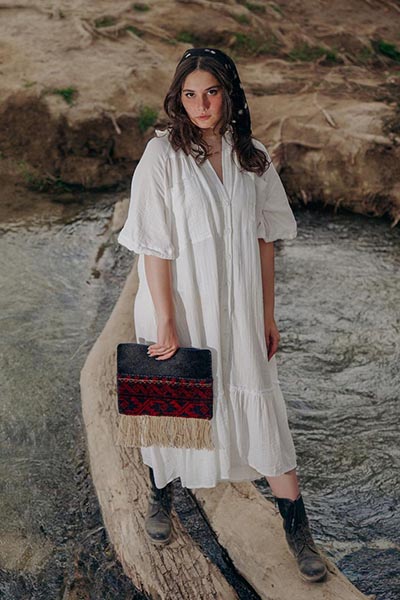 At Cyruscrafts online store, we want you to shine with original and unique products in any group. Therefore, we send the best Iranian handicrafts to European
countries and the United States.
Size

30*24

Material

Leather

Color

Red

Target Gender

Womens clothing