Asymmetric Silver Indian Agate Earring AC-746
Circle Diameter: ~ 2 cm
Dangle Size: ~ 2.5 cm
Weight: 7 g
Stone: Indian agate
Material: Silver
These earrings are made of 925 silver and embellished with beautiful Indian agates in colors of blue and green. The Circular form of the earrings has got them a pretty and noticeable feature in common, and apart from that circle in designing is a great calming and focusing element.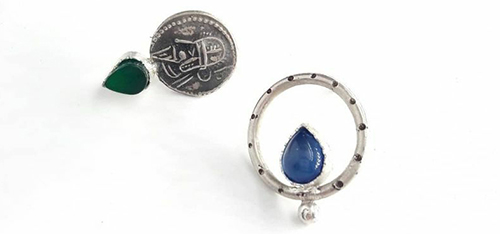 These days mismatched earrings are trendy. The thing we should pay attention to in this kind of accessories is that they are not irrelevant. In other words, they match each other perfectly in a different way like extraordinarily. They are not identical twins but still twins!
To buy these awesome earrings means you are to be outstanding!
About the Asymmetric Silver Indian Agate Earrings AC-746
The stones used in the earrings aren't in the same color, one of them is in blue the other is in green. Agate gemstones come in a variety of colors. Agate is transparent, if you position agate above a text, you should still be able to read the book, although with some difficulty.
Agates can be cleaned with some warm soapy water and a soft brush. They should not be exposed to harsh cleaning products and high temperatures. The hardness and durability of agate make it a good choice for jewelry and stone settings, but other gemstones and jewelry should be avoided because they can scratch softer materials.
In addition to being a powerful healing stone, Indian agate is an excellent stone for meditation.
Why CyrusCrafts™?
CyrusCrafts™, with its excellent infrastructure, professionalism, and specialized activity in the area of sales and export of high-quality vintage and modern Iranian goods to different parts of the world, now proudly presents unique decorative and tasty items with the latest transfer methods, and provides customers with after-sales service responsible for their purchase.
With Originality, Quality, Beauty, Uniqueness, Health, and a good feeling of a safe purchase and delivery, we guarantee your satisfaction.