Handmade Silver Stud Minakari Earrings AC-778
Width: 2.5 cm
Height: 3.5 cm
Weight: 7 g
Material: Jadestone, synthetic pearl, silver, enameling material
These fantastic stud earrings are entirely handmade by great artisans. Being made of Jade and Pearl has made it very special. The colors are alive and the materials are the best because the best is what you deserve. Providing the best accessories for you is our honor.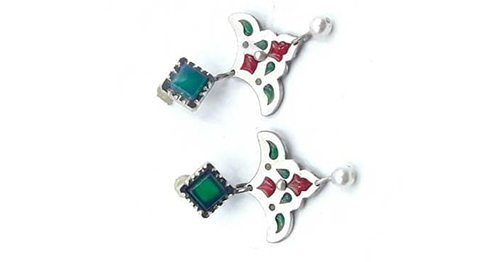 Handmade Silver Stud Minakari Earrings AC-778 Zodiac
In Zodiac, every month has stones related to each month. According to that, the pearl is related to June and Jade is related to March and August. There is a belief that stones possess healing powers and that when the person having them is born during the related birth month, those powers grow stronger.
Pearls offer crystal healing for digestive tract problems and muscular conditions. In addition, it has a positive effect on fertility, as well as easing the discomforts of childbirth. Also, it helps in maintaining or restoring body balance and rhythm.
Jade promotes a healthy immune system and aids in detoxification. The stone is excellent for treating kidney problems and problems with the adrenal glands. In addition to cleansing and binding bones, jade also heals stitches and re-connects skeletal and cellular systems. It assists fertility and childbirth.
These beautiful earrings are the best to wear especially in ceremonies, dating, and every fancy occasion. Buy them for yourself or as a gift for your friend, girlfriend, wife, sister, mother, or coworker. And containing the colors red, green, white, and silver, these could be a great match to Christmas.
Why CyrusCrafts™?
The CyrusCrafts™ company, whose infrastructure is excellent, has an excellent reputation for offering a wide range of vintage and modern Iranian goods to different parts of the world and is proud to offer you the most unique and original decorative and tasty items through the latest transfer processes and customer service.
A good sense of a safe purchase and delivery is important to us. We provide Originality, Quality, Beauty, Uniqueness, and a good sense of a safe product.
You might also like
Accessory
Fam
AC-710
Width: ~2.5 cm Height: ~5 cm Weight: ~9 g Material: 925 silver, synthetic amethyst
Accessory
Mona
AC-746
Circle Diameter: ~ 2 cm Dangle Size: ~ 2.5 cm Weight: 7 g Stone: Indian agate Material: Silver
Accessory
Alireza Zaheeri
AC-769
Width: 2 cm Height: 5 cm Weight: 3.5 g Material: silver Artist: Khoirshid Joulaee & Alireza Zaheeri