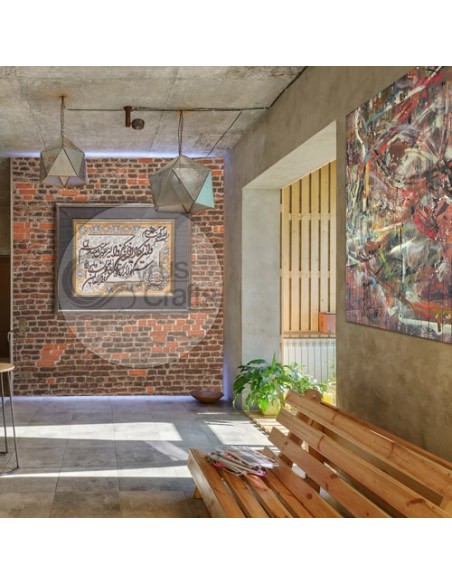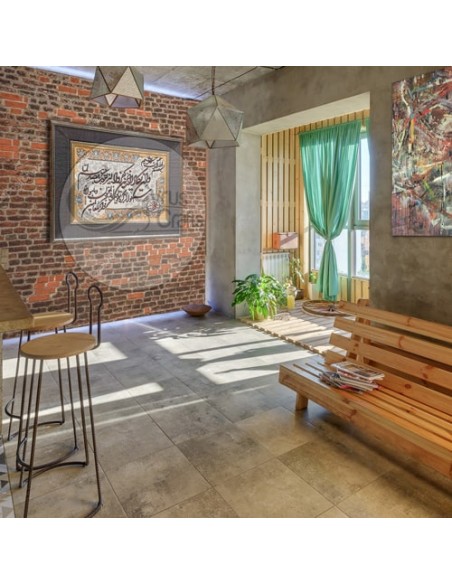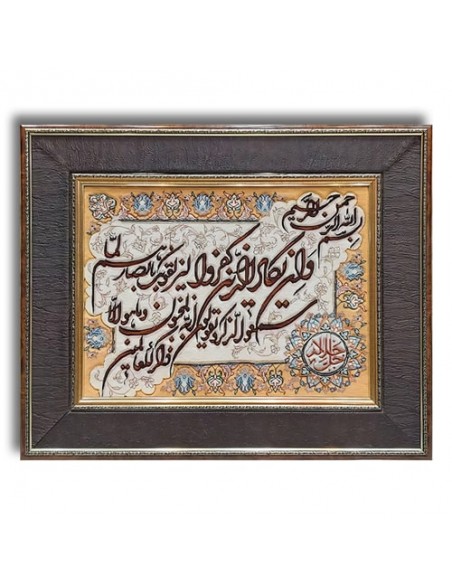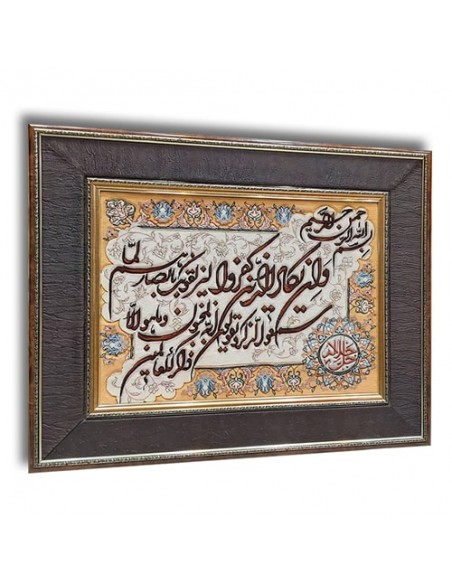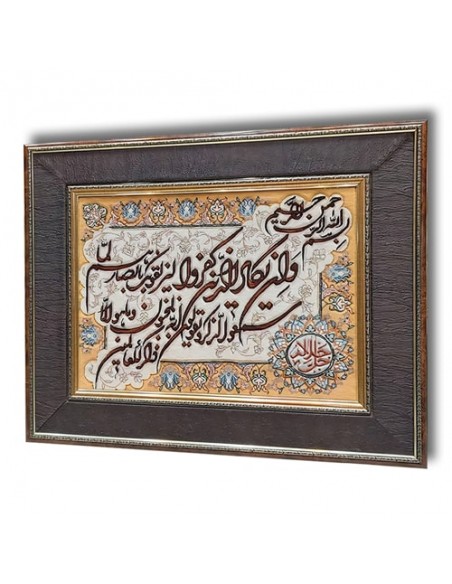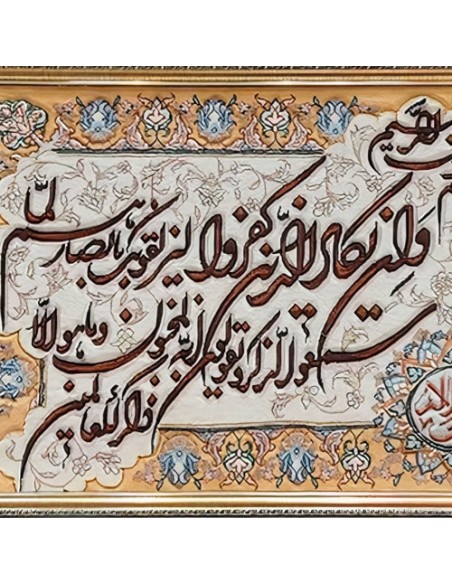 Wa In Yakād AG-808 (Vanyakad) Silk Tableau Rug Calligraphy
Size: 50 x 70 (cm)      1' 6 x 2' 2 (ft)
Border Size: 80 x 100 (cm)      2' 6 x 3' 2 (ft)
Origin: Persian, Tabriz
Foundation/Material: Silk
Border Material: Wood
Border Color: Brown, Grey
Weave: 100% Hand Woven
Wa In Yakād AG-808 Tabriz calligraphy rug
If you're after painting pictures for your home Vanyakad or "Wa In Yakād," decorative hand-knotted calligraphy pictorial carpet is one of the most common calligraphies out there and could be an excellent choice; further, it's based on the Qur'an, which is the central religious text of Islam. Wa In Yakad verse has also been called the Evil Eye Verse. To avoid being attacked by evil eyes, some people hang this verse on the wall of their workspaces, houses, or other places. Apparently, in this verse, those who did not believe sought to harm the Prophet with an evil eye after hearing the Qur'an.
Content of the Verse: (وَإِن یکادُ الَّذِینَ کفَرُ‌وا لَیزْلِقُونَک بِأَبْصَارِ‌هِمْ لَمَّا سَمِعُوا الذِّکرَ‌ وَیقُولُونَ إِنَّهُ لَمَجْنُونٌ ﴿۵۱﴾ وَمَا هُوَ إِلَّا ذِکرٌ‌ لِّلْعَالَمِینَ (٥٢
It means, "Indeed the faithless almost devour you with their eyes when they hear this Reminder, and they say, He is indeed crazy. (51) Yet it is just a reminder for all the nations. (52)"
In the bargain, combining calligraphy with rugs is the best of both worlds. In this case, if you are interested in Islam and Islamic culture, likewise, Arabic/Persian calligraphy.

Wa In Yakād AG-808 silk tableau rug
Are silk rugs worth the price? To answer that question, you need to know some facts about silk rugs/carpets; there is strength in handmade silk rugs. Since obtaining silk, dyeing silk, and manufacturing silk is far more complex than wool. Silk has excellent tensile properties, making it ideal for weaving intricate designs. And silk rugs are often displayed on the wall because of their exquisite and fine craftsmanship. Forbye tableau rugs can be substantially more ravishing than all the other tableau/wall art.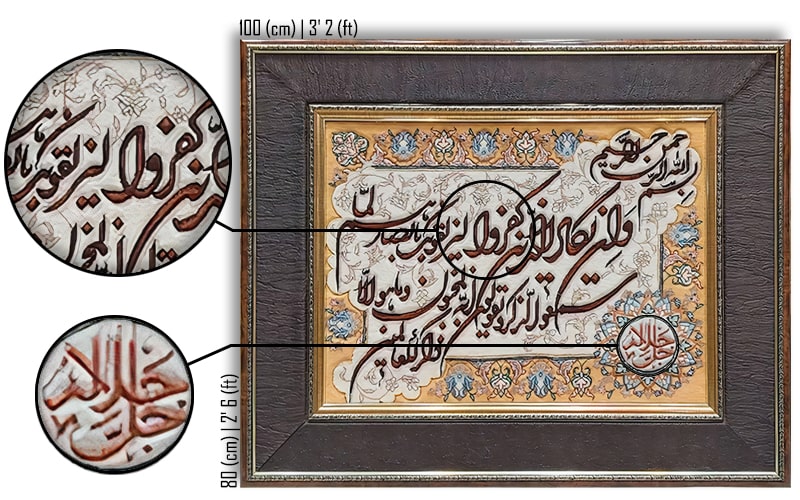 The color combination of Wa In Yakād AG-808
Since a rug serves to anchor the room, the color and style of your tableau rug can establish the mood. Dark, rich colors help define a more intimate space, while lighter colors make a smaller space appear larger. Spicy hues such as yellow, orange, or red add warmth while cool colors create calm, especially in a sunny room and "Wa In Yakād AG-808" includes both dark and light color tones, as it suits every home decor properly.
And now we offer you perhaps the cheapest handmade tableau rug available!
CyrusCrafts™ handicraft & painting store
We have a vast infrastructure, remarkably professional sales, and export vintage and modern Iranian products globally. It is why we are pleased to be able to provide products directly to customers via the latest transfer methods, customer service, and after-sales support. It is quite a thing.
You might have been asking yourself, what's the best store for painting or posters near me? Here CyrusCrafts store represents the most varied products in both quality and price.


Would you be willing to rate this product?