Every Iranian believes their mom makes the best Ghormeh Sabzi in the world! Italy is famous for Pizza, Mexico for Tacos, and Korea for Kimchi, but Ghormeh Sabzi, the national dish of Iran, is second to none. The combination of the sour taste of dried lime, the exotic aroma of Persian vegetables, and tender lamb meat on top of soft Persian rice are magical. It lets you taste the essence of Persian culture in a single bite. This iconic meat and vegetable stew, or as Iranians call it, "Khoresht Sabzi", is the ultimate test of cooking skills and gets cooked in different colors, tastes, and styles. The best part of this beautiful dish is being hypnotized by its aroma while simmering to perfection for hours.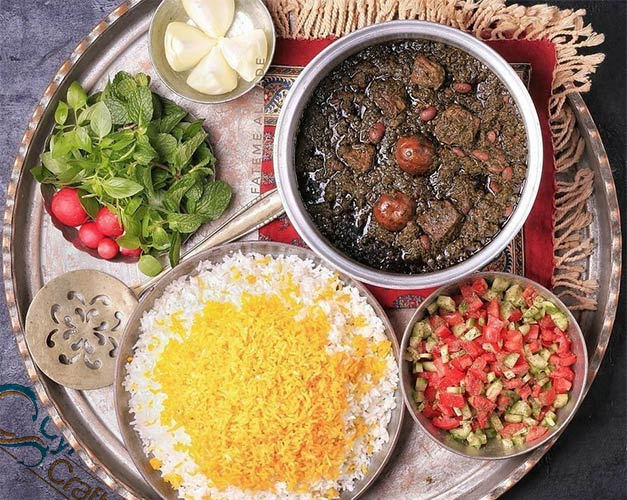 What Is Ghormeh Sabzi
Ghormeh sabzi is a classic and traditional Persian herb stew known for its unique savory, sweet, and slightly sour taste. Seared beef or lamb is combined with sautéed fresh herbs, kidney beans, and tangy dried limes, then slowly cooked until it develops an incredible depth of flavor. Serve this delicious stew over Organic and tasty Persian rice and tahdig or Kateh for a filling and satisfying meal. Although you'll need to set aside over an hour to allow the stew to cook, it's easy to make, and your time will pay off tenfold. Plus, the longer it sits, the more delicious it is — making leftovers the next day even better!
Here Are Some Reasons Why You Will Love Ghormeh Sabzi
Classic Persian recipe. A handful of Persian recipes are considered an iconic national treasure. And ghormeh sabzi is no exception. It's a traditional dish that has likely been prepared in every Persian household and is often thought of when you think of your mother's home cooking. Many consider it to be the unofficial national food.
Easy stovetop recipe. Some might think that making Ghormeh sabzi is intricate and complex, but it isn't. It would help if you dedicated some time to let it simmer for over an hour on the stove, but there is no major prep work during this braising process. Once you have seared the meat and sautéed the vegetables, it becomes a waiting game. In fact, the longer the stew sits after it's been cooked, the more intense and delicious the flavors become.
It's loaded with flavor. If you love dishes packed with flavors that don't disappoint, you must try Ghormeh sabzi. Sautéed fresh herbs and dried Persian limes make this dish stand out by giving it a different depth of flavor with hints of sour and sweet taste. So if you want a unique dish to impress your palette, this Persian herb stew is it.
You can design the rice tray of Ghormeh Sabzi with saffron rice, barberry, and sliced almonds or pistachios. Don't forget to put some of that crunchy Tahdig on top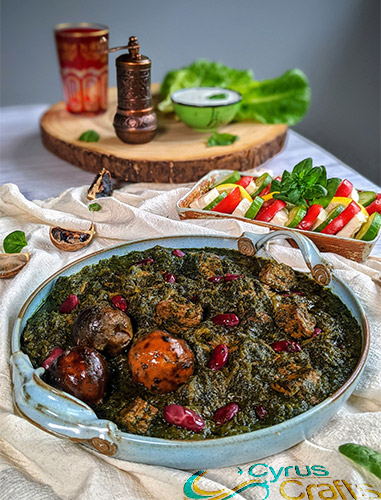 Ghormeh Sabzi Ingredients: What Do You Need to Make Ghormeh Sabzi?
To make this traditional Ghormeh Sabzi, you will need the following ingredients:
Beans for Ghormeh Sabzi
You can use red beans, Roman beans, red kidney beans, or a mixture of beans in Ghormeh Sabzi. The beans must be soaked in water for at least 2-3 hours and drained before use. To make the best Ghormeh Sabzi in the world, you must plan and soak the beans overnight. This prevents the beans from being gassy, which makes them easier to digest.
Vegetables (Sabzi Ghormeh):
Fresh herbs and vegetables play an essential role in some foods such as Ghormeh Sabzi and Persian noodle soup. Other than onion which appears in almost every Iranian dish, the most common combination of vegetables is two parts parsley, 1 part chives, 1 part spinach, and a small amount of fenugreek (Shanbalileh). We recommend using dried Shanbalileh to increase the mouth-watering aroma. You can also add coriander and scallion.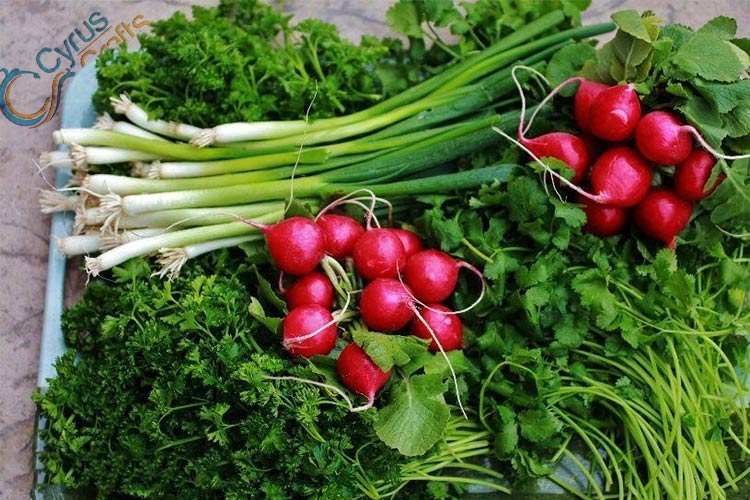 Meat for Ghormeh Sabzi
Lamb meat is the heart of every Iranian Khoresht (Persian stew). The giant and delicate lamb meat cubes give Ghormeh Sabzi lots of flavors and diversity in texture. If you care more about the taste than being healthy and love the smell of lamb fat, you can add some lamb bones resulting in a more intense taste and aroma. Of course, you can use beef instead of lamb to decrease the amount of fat and be more healthy too. It isn't a problem if you are vegetarian; walnuts or mushrooms can substitute for the meat. 
Dried Lime for Ghormeh Sabzi 
Being tart, acidic and salty is the main character of Ghormeh Sabzi. Using Limo Amani or Persian Lime (dried lime) is the most exciting way to flavor this tasty dish. Persians use Limo Amani as a whole with tiny holes in them and let its unique and exotic taste change Ghormeh Sabzi slowly into the most delicious Iranian food. Traditionally, you should even serve Ghormeh Sabzi with at least one Limo Amani in each Khoresht dish which helps the appearance. You can use lemon, lime, or verjuice substitutes for Limo Amani.
Rice for Ghormeh Sabzi
Like any Persian stew and many Persian foods like Zereshkpolo, Ghormeh Sabzi should be served along with a tray of aromatic Persian rice. Cooking Persian rice to perfection is an art! The use of quality Iranian rice is one of the necessary conditions for the taste of Qormi Sabzi. There are wide varieties of rice, and each one needs a separate introduction and instruction. The rice gets cooked separately, and there are two methods available, Chelo and Polo. 
Ghormeh Sabzi Recipe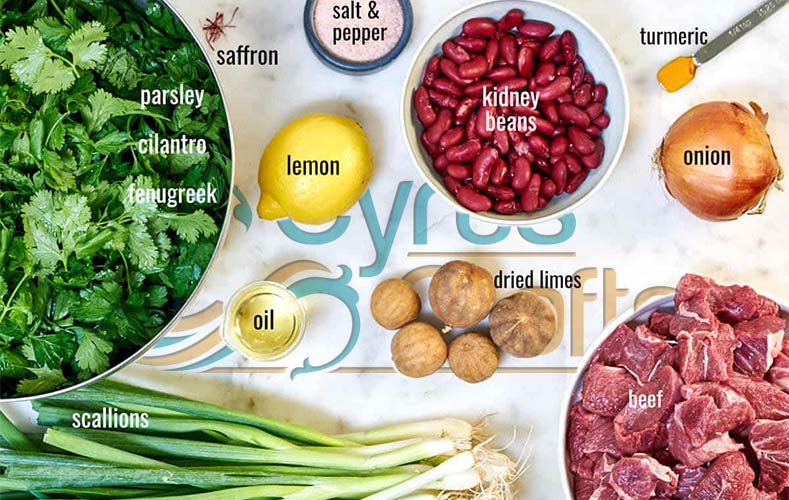 Step 1: To cook Ghormeh Sabzi, you need to start by picking through the herbs, add all in a large bowl or separately in smaller ones and fill with cold water. Agitate with your hand a few times and let the herbs sit in water for about 10- 12 minutes to loosen any possible gravel.
Transfer the herbs to a colander, rinse a few times, and then set aside to drain completely before chopping them finely. The herbs are chopped fine to give Ghormeh Sabzi its dark green look. You can use dried herbs instead of those you don't find fresh such as fenugreek or chives.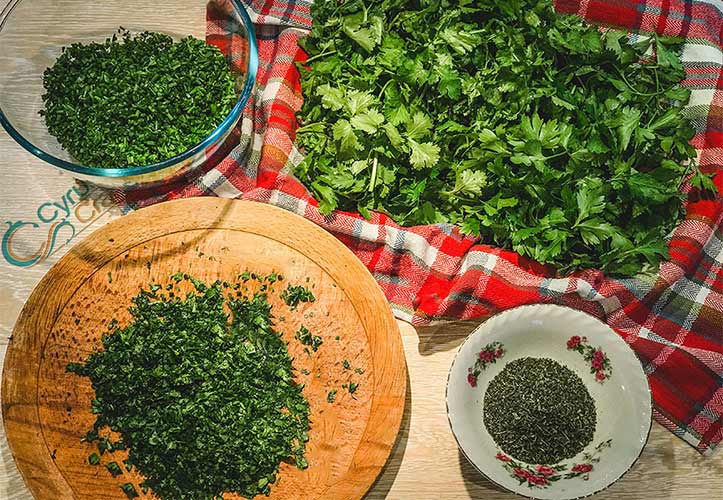 Step 2: Add the herbs and 1/4 cup vegetable oil to a non-stick pot. Sauté over medium-high heat for about 15 minutes and frequently stir until you smell the aroma of the herbs. This is a crucial step in making Persian herb stew.
If you are using dried fenugreek or other dried herbs, add them at the end to avoid burning. Then remove from the heat and set aside.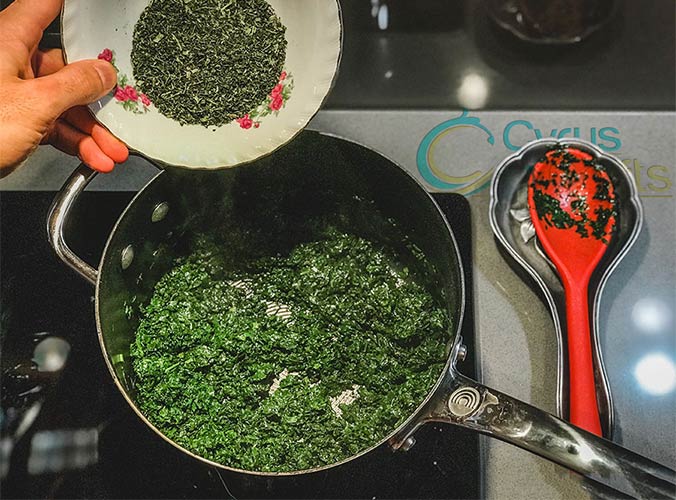 Step 3: Heat vegetable oil in a large pot and sauté onion until light and transparent. Add in the 2-inch lamb chunks and turmeric. Cook for about 5-7 minutes, occasionally stirring, until the lamb is seared on all sides. Add in water, and bring it to a boil.
Step 4: Rinse the soaked beans and add them to the lamb. It is also possible to use canned beans. If using canned beans, drain and add them in the last hour of cooking as they're already cooked.
Step 5: Add in the sautéed herbs. Cover and cook for another 1 hour, or until the lamb and beans are fully cooked.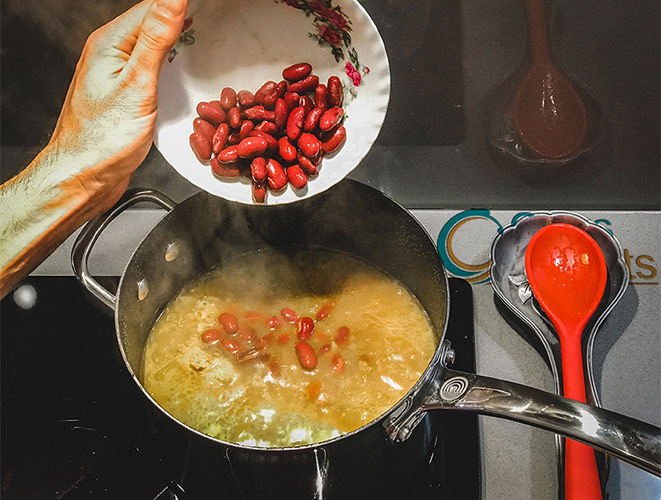 Step 6: Pierce the dried limes with a fork before adding them in the last hour of cooking. This way, they will gently release their juice and aroma while simmering, and the sourness of the stew would be just right.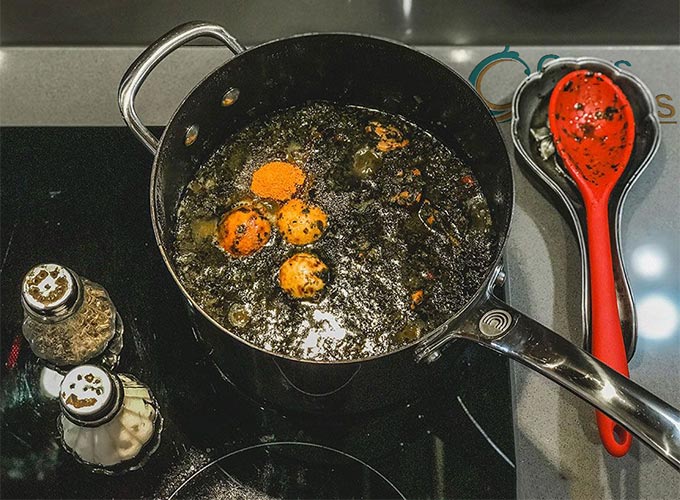 Persian dried lime, also known as black lime, is a crucial ingredient of Ghormeh Sabzi as the stew's unique citrusy and slightly bitter flavor comes from them. Limu Amani, as we call it in Persian is a lime that has lost its water content; usually dried under the sun and can last for two years. They are used whole, sliced, or ground as a spice in many Persian dishes. You can make your own by blanching fresh limes in salted water and drying them on a rack in the sun or in an airy pantry for at least a week or until the limes feel rigid and hollow. 
You can substitute dried lime powder or fresh lime/lemon juice if you do not have whole dried limes.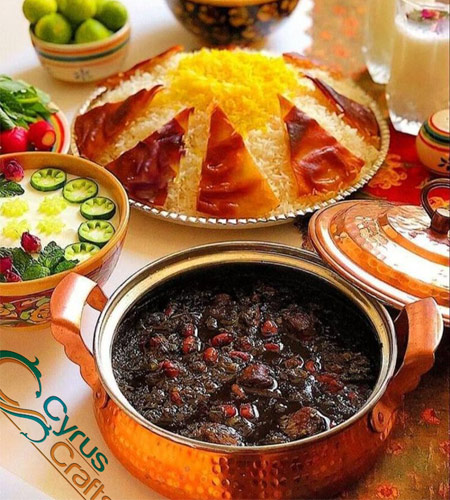 Notes for Making Ghormeh Sabzi
Ghormeh sabzi should be thick and not watery. When herbs simmer for a long time, they disintegrate into a thick stew. If you notice that the stew is too watery, turn up the heat and wait for the excess water to evaporate.
When the stew is done, you will notice its dark green color oil separating on the top. 
Traditionally, Ghormeh sabzi, like all other Persian stews, is served over aromatic steamed Persian rice with Persian Saffron "Chelo" or over golden rice Tahdig – the magnificent crunchy golden rice formed at the bottom of the pot when making Chelo.

Comments (0)
No comments at this moment