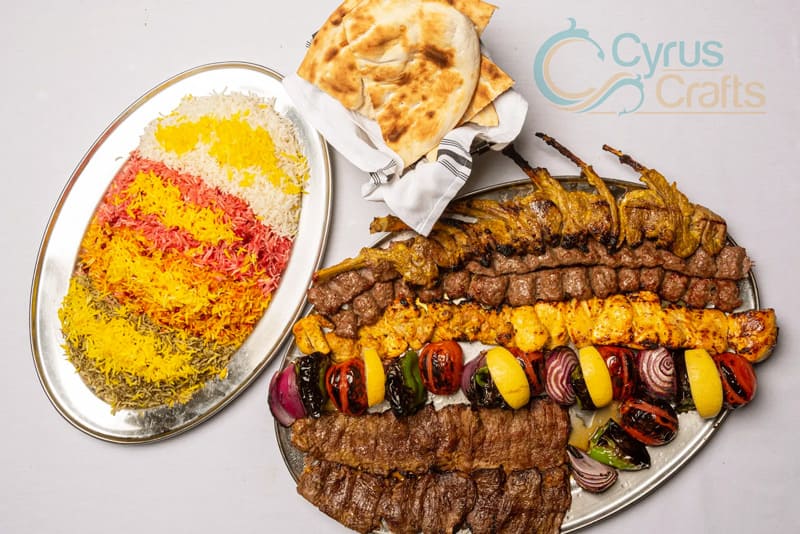 History of Kebab in Iran
Kebab Kobideh (Kabab) was invented in Iran during the reign of Nasser Al-Din Shah Qajar(1848-1896). The king's opinion was very effective in preparing the Persian kebab recipe. During his tour of Russia, Caucasus, and European countries, Nasser al-Din Shah Qajar enjoyed three things: the elegant clothing of the Russian Kazak, the Saint Petersburg's and Muscovite ballerinas' pants, and finally, Caucasian Chelo-Kebab. Caucasian Kebab was different from Iranian Kebab, mainly prepared from chops of veal, mutton, and hunted birds and grilled on skewers. The Caucasian Chelo Kebab is now known as kebab Barg, Sultani, and Koobideh.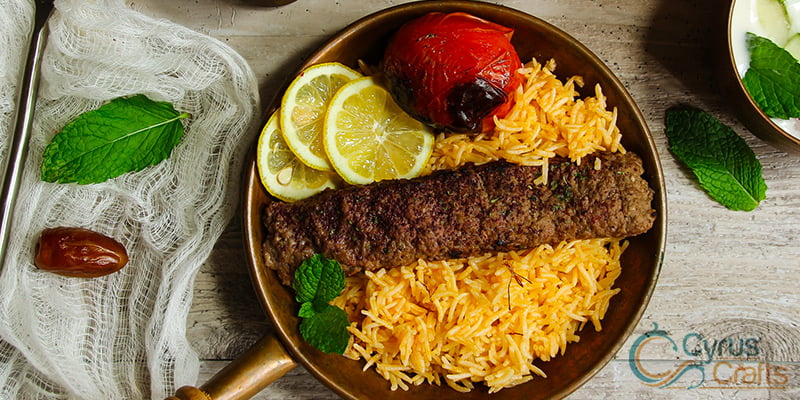 At first, the Kebab was an aristocratic food. It was mostly served by the royal family and the court and at imperial celebrations. Still, later Kebab became a Bazaar food with many customers from the shopkeepers. Today, Kebab is served in every Iranian home and is one of the most common foods on the Iranian food list.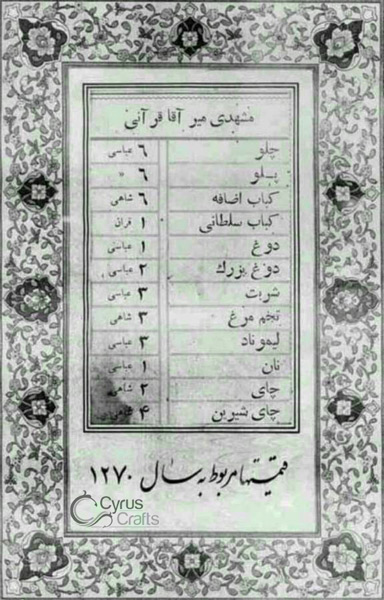 The method of serving Iranian Kebab at that time was different from now. 
First Iranian rice and butter were served to the customer
At the same time, the next waiter put a kebab skewer on the rice. 
In some restaurants, the kebab skewers were served until the customer was satiety.
The number of kebabs Eaten by the customer does not affect the price of the food!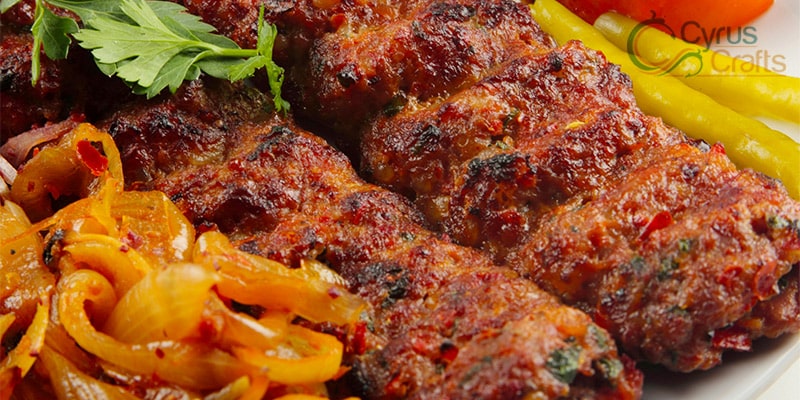 How is Iranian Kebab served?
Traditionally Kabab Koobideh is served with hot Persian Steamed Rice. The rice is tossed with butter cubes and sprinkled with Sumac. Persians love their Chelokabob (Rice and Kebab) with slices of raw onions and fresh herbs. The golden key to enjoyment is TahDig! The beloved crispy Lavash bread toasted in the bottom of the pot of Persian Rice.
Chelo kebab also comes with grilled tomatoes. It's customary to scrape the insides out, leaving the skins behind. Other extras include:
Chelo kebab also comes with grilled tomatoes. It's customary to scrape the insides out, leaving the skins behind. Other extras include:
A plate of fresh herbs.
Plain yoghurt or yoghurt with chopped shallots.
It is interesting to know that a type of kebab is prepared in the Hamadan, the recipe of which is exactly the same as the kebab koobideh. The difference is that the raw materials are cooked in the oven.
The traditional drink to wash it all down is Doogh. Doogh is a salty, sometimes carbonated drink of yoghurt and water with dried mint. Ensure you don't have any important business afterwards because eating Chelow Kebab in its most traditional form is the perfect recipe to knock you out into a food coma. That's why so many traditional restaurants have beds instead of tables where you can stretch your legs after having a delicious meal.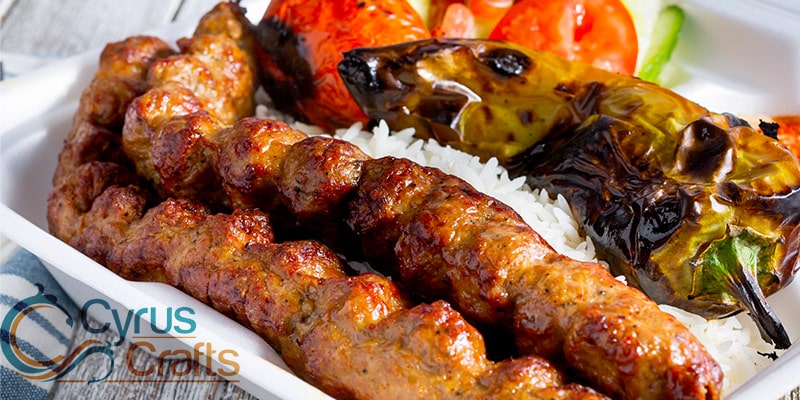 Ingredients for Iranian Kebab 
ground lamb or beef (ideally lamb shoulder or 25% fat beef)

onions

4 tbsp butter

1 tsp black pepper

1 tsp ground paprika

1 tsp baking soda

1 tsp salt

1/4 tsp ground saffron

Tomatoes, basil, sliced red onions, sumac, and flatbread or rice to serve with
Brief Iranian Kebab Recipe
Combine the ingredients and knead them for five minutes into a smooth paste.
Shape the koobideh on wide skewers. Eight koobideh of about 7 to 8 inches long.
Mark indentations on the koobideh with your fingers. And place the skewers on a hot charcoal grill.
Grill the koobideh for about 4 to 5 minutes on each side.
Tips and Tricks for Delicious Kebab Koobide
The fantastic taste of these kebabs results from using high-quality ingredients. 
Mix fresh ground meat with adequate fat content and grated onions, kneading the meat mixture properly, charcoal, and grilling them.
The lean meat portion produces a firm mass for shaping and grilling kebabs when the meat mixture is kneaded well into a pasty dough-like consistency.
The kabobs are wrapped around wide metal skewers that heat up well. The meat cooks well from the inside and outside, And it is this quick-cooking process gives the requisite juiciness to your Kebab Koobide.
Using onion juice before grilling and when shaping kebabs both help to form kebabs on the skewer and give them a better taste.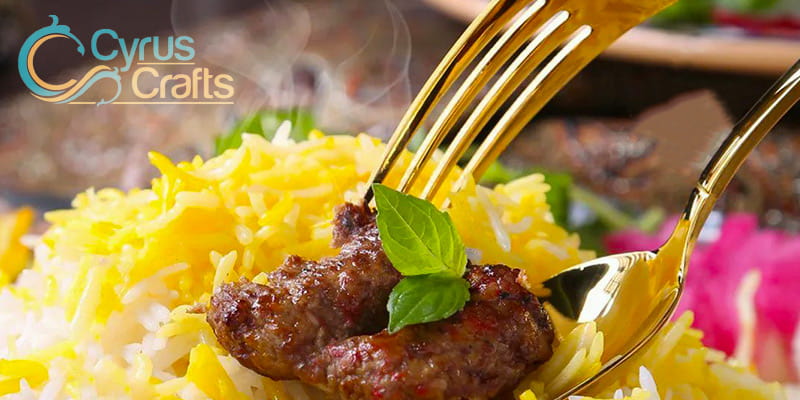 Is Kebab a Healthy or Unhealthy Food?
Kebabs are a healthier fast food option for people with diabetes. Kabab kooideh is not fried and usually comes with rice and salad. However, Kebab meat does contain fat, and the amount will vary depending on the meat used. The fat content of minced lamb kebabs is usually closer to 20-25%.
When choosing a kebab, ask for extra salads. Salads increase metabolism and help digest kebabs. Remember to select sauces carefully because they can increase the amount of fat.
Iranian food's vibrant, exciting, enticing flavours are always famous worldwide. At CyrusCrafts, we proudly offer you the highest quality, purest, and freshest raw materials for cooking authentic Iranian food, including Iranian rice and saffron, at the most reasonable prices.

Comments (0)
No comments at this moment