Metal handicrafts are artistic objects made by creating traditional designs and motifs on different metals, such as iron, gold, steel, brass, silver, copper, and bronze, using metal hand tools. minakari and turquoise inlay, two metal handicrafts, are among the finest Persian handicrafts.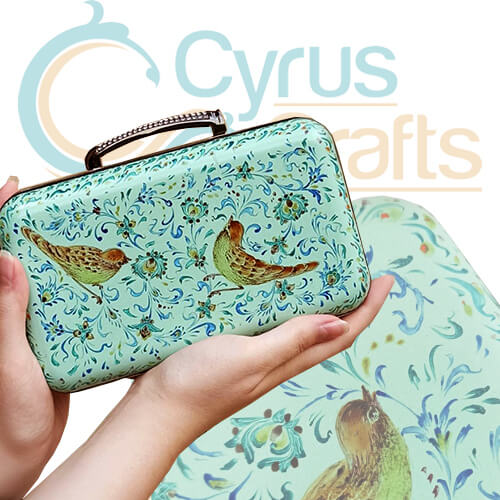 Minakari: There are different styles of minakari, such as the "segmented mina" and "painted mina". More popular than the former style, painted mina involves drawing traditional designs and motifs in uniquely-produced paints on glazed containers.
Turquoise inlay: Originated in the art city of Isfahan, turquoise inlay has captured the interest of many art enthusiasts. To make a work of turquoise inlay, an artist delicately sticks pieces of Neyshabur turquoise with special glues on copper or other metal objects and, after a final polish, coats it in a layer of polyester as protection.
Different forms of metal handicrafts
A category of Persian handicrafts, metal handicrafts come in a wide array of forms:
Toreutics
Coppersmithing
Steel decoration (inlaying steel with gold)
Metal sculpture
Metal engraving (mostly on copper)
Segmented mina (also known as "windowed" or "fretted" mina)
Jeweled mina (gem-like bits, varying in color, glued to a mina object with glaze and water)
Painted mina (a copper sheet painted with enamel paint after being covered in thick, white vitreous enamel and fired in a kiln)
Gold inlay on steel
Traditional adornments
Filigree (using thin silver wires; products include trays, lidded sugar cube bowls, and brooches)
Chelengari(a type of metalsmithing for making items such as chains, nails, and tongs)
Knifemaking (using strong steel grades)
Fretwork (a variant of toreutics, it involves cutting out a design on metal by hammering a steel burin called tizbor ("sharp-cutter"))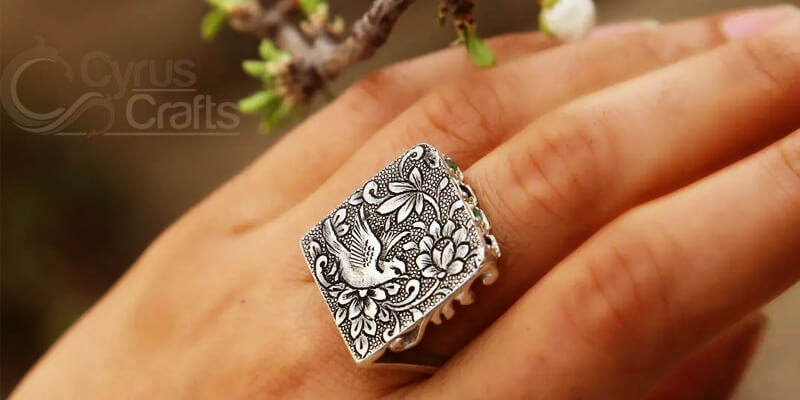 Different Types of metal handicrafts in terms of function
Metal handicrafts can be divided based on function into three categories:
Decorative: Such as framed toreutics, decorative tableaus, and adornments
Functional-decorative: Such as filigreed containers and fretted qandil's (Islamic hanging lamps)
Functional: Such as tools and horse tack
Which Iranian cities produce metal handicrafts?
Based on archaeological evidence, northern and central Iran were two of the oldest metalworking centers in the world. With a long history as a producer of metal handicrafts, the city of Zanjan is considered the cradle of this artistic field in Iran and has seen great masters developing the craft. In addition to Zanjan, Iranian metal handicraft-makers are now also working in Isfahan, Yazd, Hamadan, Qazvin, and Shiraz.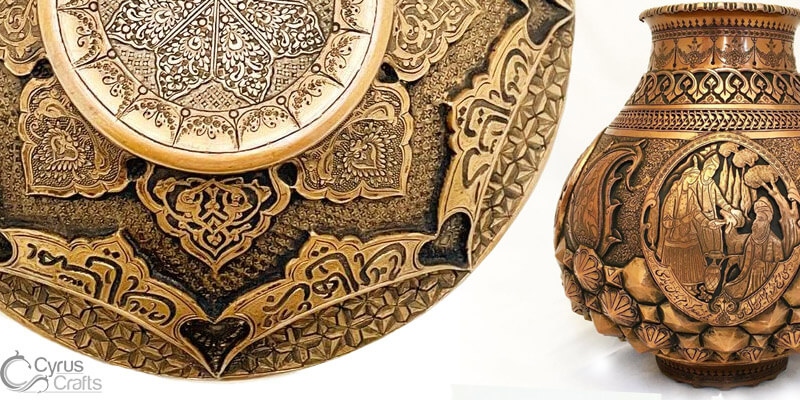 What countries are Persian metal handicrafts exported to?
Qatar, South Africa, Iraq, Azerbaijan, Afghanistan, Turkmenistan, the UAE, Malaysia, Libya, Jordan, Kazakhstan, Canada, and the US are currently the main markets for Iran's metal handicrafts export. We at Cyruscrafts hope that our expertise and capacity in supply and export can bring more precious Persian handicrafts to the international market and further introduce these traditional art forms to the world.
Cyruscrafts specializes in the supply, sale, and export of the finest metal handicrafts. We bring you high-class, one-of-a-kind products that will liven up and individualize your home or workplace.
Comments (0)
No comments at this moment