Crispy, sticky, sweet, irresistible–that is the one and only Jilebi! jilebi (also called Jalebi, Zulbia, Zalabiya, or jilapi) is perhaps the most famous sweet. This pretzel-like dessert is commonly a compulsory addition to festive tables. jilebi is not Indian but Persian or West Asian in origin. However, it has long been associated with Indian cuisine and culture. If jilebi is your all-time favourite sweet, what are you waiting for? Follow this easy jalebi recipe and make some scrumptious and crispy jalebis for yourself and your family.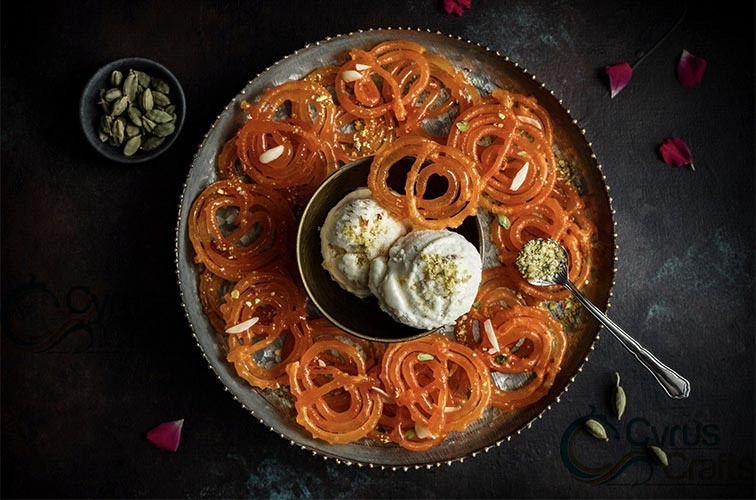 What is jilebi?
jilebi is also known as jalebi, zulbia, or jilapi. Although everybody sells this sweet under the name "jalebi"—due to its popularity compared with other names —we will use "jalebian" since that's how most people talk about these treats!
jilebi is a sweet that looks like a pretzel and is widely enjoyed—particularly in Iran, the Indian subcontinent, and other Middle Eastern countries.
jilebi comes in many forms and variations. Typically, it is made by deep-frying a batter of all-purpose flour and then soaking it in sugar syrup.
Even though the pretzel jilebi made with all-purpose flour and sugar syrup is the most common sweet variant, you can apply your imagination to create new versions. For example—adding citrus juice or rose water will give it a different flavor profile than if used alone. Thanks to its variability, jilebi can serve as a fine snack at any table and meet various gastronomic preferences.
jilebi is not just a dessert but even part of morning breakfast and evening snacks in several countries. Cyruscrafts is a great place to buy souvenirs and munch on sweets if you enjoy eating traditional foods from different countries.
How to make jilebi?
The key to making crisp, juicy and light jilebi is the consistency of the batter. You can make fantastic jilebi at home if your batter is prepared correctly. The consistency of the batter must be free-flowing yet thick. Wondering how you make sweet, juicy and crispy jalebis at home? Here is a super easy recipe to help you make some Bamieh style jilebis at home.
Like other sweets and chocolates, jilebi is also delicious at tea time—a perfect accompaniment to a cup of Darjeeling or Assam. It can entertain guests next to Gaz(sweet white balls) and Sohan(sweet fried dough), too!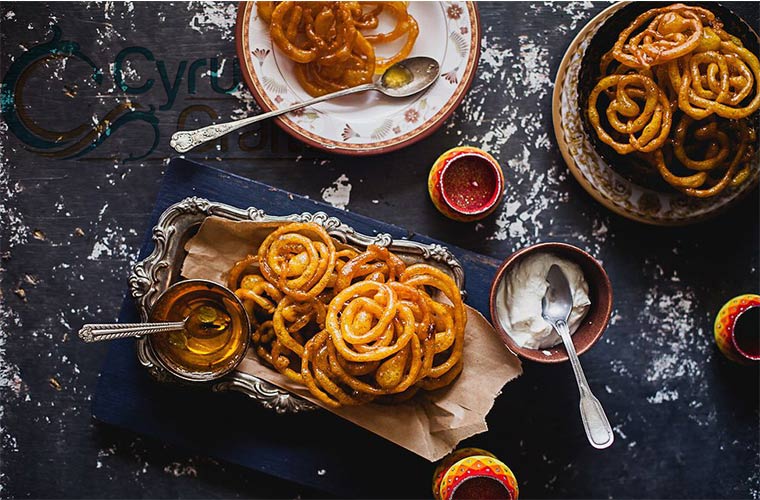 jilebi or jalebi ingredients
To make jilebi, you need the following ingredients:
3 cups all-purpose flour
2 cup hung curd
1/2 cup ghee
3 cup sugar
5 strand saffron
1/2 teaspoon powdered green cardamom
1/2 cup corn flour
1 1/2 pinch baking soda
2 cups sunflower oil
3 cup water
4 drops of rose essence
1/2 teaspoon edible food color
The quality of saffron used to make this dessert is critical; better-quality saffron makes a tastier jalebi or jilebi. If you want to buy high-quality Iranian saffron, go to Cyruscrafts online store and order the best Iranian saffron in various packages and weights. They will deliver it to your doorstep—in Canada or the United States.
Jilebi recipe
You can make these delicious sweet treats by dipping batter-fried swirls into a sugar syrup flavored with cardamom and saffron.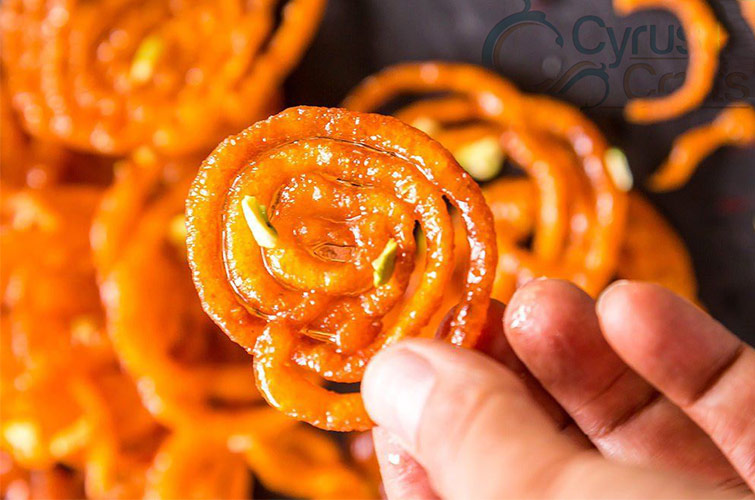 Jilebi recipe Step 1 
Prepare the jilebi batter and let it ferment overnight. To make this easy jilebi recipe, mix together all-purpose flour, cornflour and baking soda in a bowl. Now add ghee and food colour to the above mixture and give a mix. Then pour in some hung curd (yogurt which has been left out of the fridge overnight) along with water; this will thicken up your batter into something like runny pancake batter consistency! Mix well until the batter is thick but has a slightly flowing consistency. Let it ferment for 8-10 hours before proceeding to step two. To make the sugar syrup, combine water and sugar in a saucepan over medium heat and stir continuously until fully dissolved. Bring the syrup to a boil and let it simmer until its viscosity reaches a "one-string" consistency. Mix well with saffron, cardamom powder, and rose essence or rose water. This will be used for soaking jilebis to have their signature sweetness.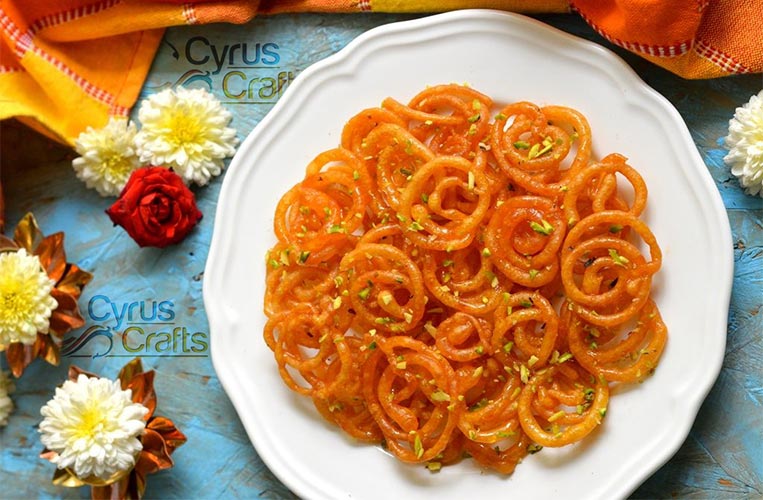 Jilebi recipe Step 2 
Deep fry the jilebis. Now, heat oil in a pan over medium flame for deep frying. Fill the jilebi batter in a muslin cloth and pierce a small hole in the cloth. You can even use a squeezy bottle (ketchup bottles with a small nozzle on top) to make jilebis. Now squeeze the muslin cloth to make concentric circles. Move from inside to outside to make perfect circles. Fry till jalebis from both sides until they are crispy in texture and golden in color. 
Jilebi recipe Step 2 
Soak the jalebis in sugarsyrup for 3-4 minutes. Keep an eye on them to ensure they do not overcook, which will cause them to become soggy. Don't soak the jalebis for too long if you wish to retain their crispiness. Remove the jalebis from the syrup and place it on a tray lined with butter paper or foil. Decorate with silver foil (optional) and serve the jalebis hot, warm or at room temperature with creamy Rabri. Note: To make the Jalebi even more delicious, add a bit of ghee to the batter; this will give your Jalebi that perfect aroma. To the crispy Jalebi, don't forget to ferment the batter overnight. After frying the jilebis, put them in a container. Decorate with pistachio powder or slices if you wish.

Comments (0)
No comments at this moment