Elegant Chrome 18 flames Chandelier H6646/12
Material Body: Metal
Size: 37.40*37.40 in
Weight: 24 kilogram
Number of flames: 18
Height: 39.37 in
Shape: Circular
Color: Chrome
Glamorous Chrome 18 branches Chandelier ID-276
The chandelier is one of the most common decorative items in home decorating. As you know, in the past, chandeliers were exclusive and were used only for certain cortical houses. Nowadays everyone buys a chandelier for meeting their lighting needs also as a luxury accessory for designing their houses. The chandelier decorated modern style elements made up of exceptional quality chrome metal cage and clear crystal. It has the ideal brightness for indoor use.
The modern chandelier is perfect for the kitchen, foyer, entrance, living room, baby's room.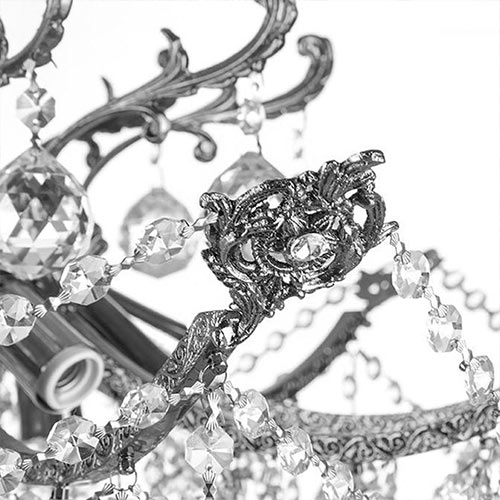 body material of
Chandelier ID-276
In making Cheshmeh Noor crystal chandeliers, metal and glass are beautifully put together in making this product.
This chandelier is in a good condition in terms of height and has a normal weight so that there is no problem installing it.
This beautiful chandelier has nano plated which has high resistance to scratches and impacts.
Why cyruscrafts™?
With a strong infrastructure background, professional and specialized experience in the field of sales and exports of vintage and modern Iranian goods to various countries around the world such as Canada, CyrusCrafts team is now able to provide you with the most unique and original decorative and tasty items with the latest transfer processes, Customer support, after-sales services, responsibly. We offer Originality, Quality, Beauty, Uniqueness, Health, and a secure sense of delivery.
Size

37.40*37.40*39.37 inches

Weight

24 KG

Color

Chrome

Application

Reception halls, Living Room, House