Banquet Kalute Date with Walnut Kernels Ta-675| 700 gram pack
Produced in Iran
Date with walnut kernels
Delicious snack
Rich in minerals and energy
In package of 700 gram (24.69 ounce)
In addition to supplying minerals and vitamins, Banquet kalute dates with walnut kernels provide energy for common daily activities. Due to its soft and meaty texture, balanced sweetness, Kalute dates are a rich source of essential vitamins such as vitamins B, A, and C, rich in fiber, iron, and potassium, and among the most special types of dates.
About Banquet kalute date Ta-675
Banquet dates are produced in single-numerical packaging, in perfectly hygienic conditions, and are great for taking out. It gives you energy on the way and out of the house. Bring it along in cars, clubs, meetings, mountains, and wherever life takes you.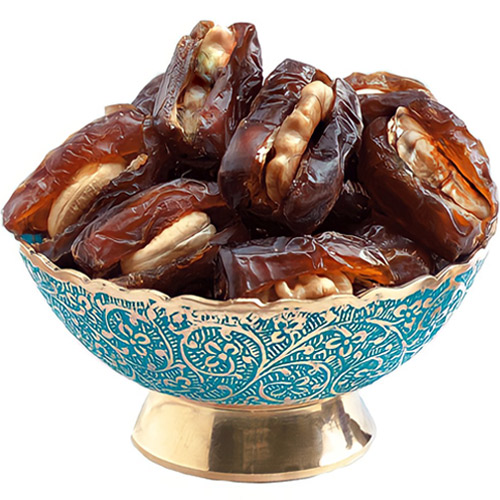 Why CyrusCrafts?
CyrusCrafts™ by an excellent infrastructure background,  professional and specialized activity in the field of sales and export of high-quality vintage and modern Iranian goods to different parts of the world, is now proud to offer you the most peculiar and original decorative and tasty items with the latest transfer processes, Support Customers and after-sales service, responsibly.
Size

27 x 13 x 10 cm

Material

Date, walnut

Weight

700 gram (24.69 ounce)
You might also like
Tasty!
Dombaz
Ta-186
Produced in Iran (Hormozgan)  Classy date Contains fructose In package of 500 gram (17.63 ounce)
Tasty!
CyrusCrafts™
Ta-365
Produced in Iran Dried dates A kind of healthy snacks In package of 1 kg (2.2 pound)
Tasty!
Dombaz
Ta-489
Produced in Iran (Bushehr) Contains fructose sugar In package of 450 gram (15.87 ounce)