Dried Apricot Ta-766| 300gram
Produced in Iran 
Excellent source of mineral
A nutritious snack
Produced from the best apricot
In the package of 300 grams (0.66 pounds)
Dried Apricot Ta-766 detail
Apricot is one of the most popular and delicious summer fruits. This very valuable fruit was first brought to Europe by the Greeks, who called the apricot "the golden egg of the sun."
We can have apricots in all seasons and enjoy eating them. Using dried apricots is one method of storing apricots for a long time. The dried apricot is one of the most popular dried fruits.
To produce this product, the best and highest quality type of apricot is used to maintain its taste and quality during the drying process and to provide you with excellent products. Check the result after a few days and you will be surprised by the results of adding dried apricot fruit to your daily diet.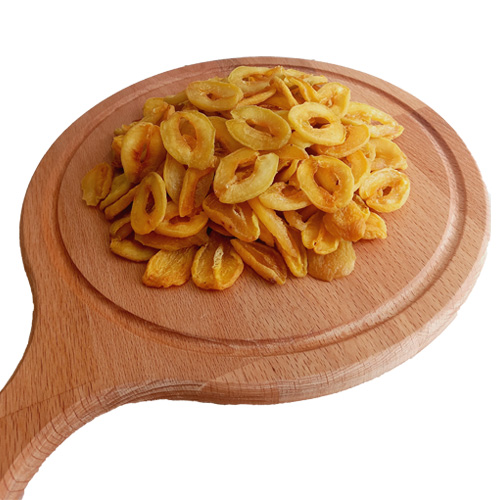 The extraordinary properties of dried fruit
Nowadays, everyone knows that dried fruit contains various nutrients and that eating even a few dried fruits per day can provide our bodies with the minerals we need to stay healthy.
Fruits are low in calories and dried apricots contain 200 kcal per 100 g. It can also be said that this fruit is an excellent source of fiber, antioxidants, and vitamins.
 Dried apricots contain vitamin A and beta-carotene, and every 100 grams of this dried fruit contains 64% of vitamin A needed by the body.
How to maintenance dried apricot
Dried apricots that have a delicious taste can be easily stored, just keep them in sealed containers away from sunlight in a cool place or refrigerator.
Why CyrusCrafts?
The latest transfer processes combined with CyrusCrafts's expertise in exporting high-quality vintage and modern Iranian products around the world, as well as support from Customer support and after-sales service, makeCyrusCrafts™ unique and distinctive.
You might also like
Tasty!
CyrusCrafts™
Ta-390
Produced in Iran With premium mulberries In package of 1 kg (35.27 ounce)
Tasty!
Layansaa
Ta-516
Produced in Iran Mix 14 kinds of fruits Premium quality fruits In package of 300 gram (10.58 ounce)
Tasty!
CyrusCrafts™
Ta-753
Produced in Iran Produced from grade 1 kiwi Delicious snack In the package of 300 grams (0.66 pounds)